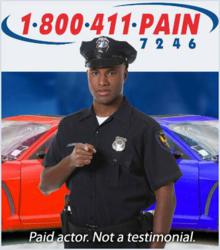 Fort Laudedale, FL. (PRWEB) May 16, 2012
411 Pain's commitment to service has been demonstrated in the extensive role they play in various charitable events. 1 800 411 Pain has donated well into the hundreds of thousands of dollars to charities ranging from literacy programs for young children, to anti-bullying campaigns throughout the nation.
Dr. Robert Lewin, owner of 411 Pain, is committed to establishing greater education opportunities for America's youth. 1 800 411 Pain regularly sponsors local book fairs for underprivileged children. 411 Pain provides each student with a five-dollar gift certificate in hopes of ensuring every child who attends the book fair leaves with a book. Since collaborating with The Read and Rise Literacy Campaign, 1 800 411 Pain has made a huge impact in the community. Children who are normally unable to purchase books are given the opportunity to expand beyond their financial restraints. 411 Pain never wants to see a child held back because of a financial situation they have no control over. 1 800 411 Pain's next appearance will be at Phillis Wheatley Elementary School in Miami, Florida on May 15. 1 800 411 Pain will be presenting a check for $1,395 for 279 students.
1 800 411 Pain is also an avid supporter of anti-bullying campaigns. They clearly understood that the growing trend of bullying in America was becoming a very serious issue that needed immediate resolution. 411 Pain realized that they were in a position to make a difference and decided to do exactly that! They became the title sponsor of The Prevention Team, a South Florida based program designed to educate students on the importance of understanding all aspects of bullying and why it should be avoided. Utilizing some of America's largest role models, The Prevention Team provides professional athletes to speak with the kids. The rationale behind this is simple. Hearing a message from an individual one looks up to will have a much more profound impact on a person. 1 800 411 Pain is pleased to be involved with the movement to eradicate bullying. They feel that no person should fear going to school or even to work because of a bully.
1 800 411 Pain has also been known to sponsor community events designed to help people with financial problems. For example, they have sponsored turkey drives for families that could not afford to buy a turkey for Thanksgiving. 411 Pain has also held car washes to support people in danger of losing their homes to foreclosures.
1 800 411 Pain has accomplished a lot through their generous donations to various charities throughout the years. It is refreshing to see a company truly giving back. 411 Pain realizes that it is a company that was built by its community. They will never forget that and they will continue to show their gratitude.
Add 411 Pain to Google+
Like 411 Pain on Facebook
Connect to 411 Pain on LinkedIn
Follow 411 Pain on Twitter