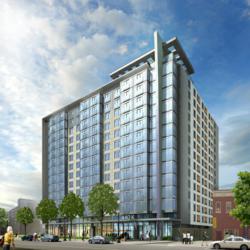 A new $45 million apartment building developed by Quadrangle Development Corporation and The Wilkes Company. The trophy-class project is located in the Mount Vernon Triangle neighborhood of Washington, DC
Falls Church, VA (PRWEB) March 17, 2013
HITT Contracting Inc. will host a party to celebrate the topping out of a new $45 million apartment building developed by Quadrangle Development Corporation and The Wilkes Company. The trophy-class project is located in the Mount Vernon Triangle neighborhood of Washington, DC and is scheduled to wrap up in December of this year.
The new development will include a 14-story, 233,000 s.f. apartment building with 234 units, and a 39,000 s.f. parking garage. Occupants will have their choice of one-bedroom units and two-bedroom units. Amenities within the building will include a rooftop entertainment suite / club room, a custom rooftop pool with cascading waterfall feature, fire pit, a fitness center, a serene second floor landscaped terrace, and 9,300 s.f. of street level retail.
The apartment building is a post-tensioned concrete structure with a mat slab foundation. The rain screen facade features an open-joint Marrazzi porcelain tile with metal panels. Juliet balconies add to the building's aesthetic and appeal as well as operable windows. Site work logistics challenges included a tight site adjacent to occupied building structures on two sides and site work along the busy K Street corridor.
The project team includes HITT Contracting Inc. as the General Contractor; Davis Carter Scott, Ltd. as project architect; DesignBuild Mechanical Corporation and Power Design, Inc., MEP design; Fernandez-Associates Structural Engineers P.C., Structural; and developers Quadrangle Development Corporation and The Wilkes Company.
WHEN: Friday, March 15, 2013
TIME: 11:00 p.m. to 1:00 p.m.
WHERE: 440 K Street, NW
Washington, DC
About HITT Contracting Inc.: Founded in 1937, HITT Contracting has grown to be ranked among today's 100 Largest General Contractors nationwide, with offices in Washington, DC, Atlanta, Baltimore, Charleston, Denver, and South Florida. Our client-focused teams fulfill any program need from a doorknob change to base building shells and complete tenant/owner fit-outs. Company-wide we maintain more than 700 employees, including a skilled in-house field force available 24/7 to support our clients long after initial occupancy. The HITT Way for quality and excellence defines the core of our mission and how we are structured. Teams are organized into expert market sectors, specializing in corporate base building and interiors, government, healthcare, hospitality, institutional, law firms, major projects, paint and service, and technology. Complementing these market sector teams are the preconstruction, sustainable construction, and subcontractor relations divisions. For more information, please visit http://www.hitt-gc.com/. Follow us @twHITTr.