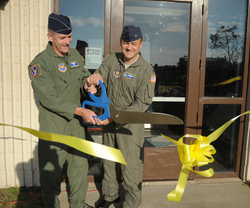 Full mission qualification cycle times vary among the 32 AE units, but it usually takes between 90 and 180 days for an Aeromedical Evacuation Crew Member to obtain Basic Aircrew Qualification for deployments
Pope Field, NC (Vocus) November 3, 2010
The ribbon cutting ceremony on October 19, 2010, heralded the opening of the Aeromedical Evacuation Formal Training Unit at Pope Field, North Carolina.
Maj. Gen. Brian Meenan, Mobilization Assistant to the Chief of Staff of the United States Air Force, and Col. Merle D. Hart, 440th Airlift Wing Commander, cut the symbolic yellow ribbon officially inaugurating the FTU training facility at Pope Field.
Officially designated Detachment 1, 440th Operations Group, 440th Airlift Wing, on February 1, 2010, the establishment of the AE FTU has been a long-term goal of the AE Community. The AE FTU starts a new era in the way AE technicians are trained and Pope Field will be the epicenter of training for Air Force Reserve, Air National Guard and active duty forces.
" Full mission qualification cycle times vary among the 32 AE units, but it usually takes between 90 and 180 days for an Aeromedical Evacuation Crew Member to obtain Basic Aircrew Qualification for deployments," said Maj. Chad Corliss, Director of Operations for the FTU, "With standardized ground and in-flight training on multiple airframes this training can be accomplished in 25 days."
After the ribbon cutting ceremony, General Meenan toured the new training facility with Col. Martha Soper, commander of the FTU.
"The facility was a storage warehouse just three months ago, but with the volunteer help from members of the 440th Operations Group, they reconfigured and set up the facility to operational status in what I feel was in record time," said Col. Soper.
Col. Michael Dankosky, Chief, Aeromedical Evacuation Branch, Headquarters AFRC, Robins AFB, Ga., explained the advantages of the FTU's elaborate training area.
"This equipment is state of the art giving the students the feel for real problems they will encounter during aeromedical evacuation missions," said Colonel Dankosky. "The demonstration mannequins cost more than $70,000 and can be programmed to simulate problems like heart attacks, kidney failure and many other symptoms particular to wounded soldiers. They can be programmed to make sounds like a real patient."
Maj. Corliss demonstrated to General Meenan the computer programs that will be used in the classroom.
"Each student has a work station with software, which simulates the effects of battlefield wounds including techniques needed to care for and save the lifes of wounded soldiers," said Major Corliss.
In preparation for the first AE/FTU class that is scheduled to start October 25, 2010, Col. Soper and her team are finishing orientation courses for instructor cadre.
"The AFRC AE FTU brings the global patient movement mission to a new and exciting level and it all starts at Pope Field, North Carolina," said Col. Soper.
###