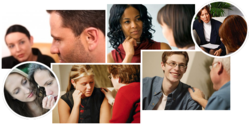 Interventions use the power of love and concern to reveal to the addict or alcoholic their patterns of denial and break the cycle of irrationality that comes with this denial. The goal of an intervention is to get him or her into drug or alcohol treatment.
San Clemente, CA (PRWEB) January 17, 2012
449 Recovery rolls out affordable intervention services in Orange, Los Angeles and Riverside Counties aimed at bringing professional assistance to families in the grips of addiction. The Southern California Drug and Alcohol Intervention Program employs trained intervention specialists to meet with families at an affordable price. The Intervention Program is designed to meet the needs of families of all income levels and offer a real solution to facing an addition of a loved one. The majority of individuals dealing with alcohol or drug habits will go to great lengths to deny that any problem exists. Professional intervention services at 449 Recovery offer a proven framework for preparing the enablers in the addict's life to face their loved one and begin the road to recovery. An intervention can convince at least 85% of addicts that a problem exists. Addiction is a disease that strikes without prejudice, rich or poor. 449 Recovery believes that everyone suffering from the disease of addiction should have access to professionals that can help them achieve a healthy, successful existence. Unfortunately many companies offering professional intervention charge fees that will cost literally thousands of dollars for their services, some as high as $10,000! 449 Recovery has structured a $299 intervention to bring these services within reach of the average person.
Often times the first person to recognize the need for action is a loved one or friend. Unfortunately, due to the extreme emotional element of that relationship, confrontation can be difficult when attempted without help. It's important to remember, that a professional intervention could literally save that person's life and cost should not be a factor. Family, friends and even coworkers can meet with therapists ahead of time to prepare exactly what to say and in what manner to best convey the message that the time to change is now. The point is to bring to light the problems existing in a way that excludes anger or resentment. Intervention services can be key to getting your loved one to recognize their issues and agree to begin the process of change. It's vital that these services be offered in a personalized caring way at a manageable fee, making services available to everyone, not just the rich.
About 449 Recovery:
449 Recovery offers intervention services for both adults and teens, detox assistance, group and individual therapy as well an expansive virtual network of resources available to their patients online. All of 449 Recovery's counselors are recovering addicts themselves, bringing a unique understanding and authenticity to their services. They are headquartered in San Clemente at 1401 N. El Camino Real, Suite 106, San Clemente, CA 92672. For More information, visit their website at http://www.449recovery.org. PR Contact: Jason McClain, email Jmcclain(at)449recovery(dot)org, Phone (855) 449-4490, Fax (949) 209 4035.
###