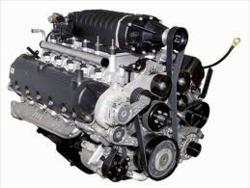 The V8 engine size is one of the most used in the Ford company engine family
Austin, Texas (PRWEB) March 30, 2013
Ford is known for its engine engineering and frequently updates the technologies used to provide value and longevity for vehicle owners. The V8 engine size is one of the most used in the Ford company engine family and is now added for online sale at the CrateEnginesforSale.com website. This company now provides the 4.6L crate engine to project car builders, mechanics, body shops, junkyards and owners of Ford vehicles. These OEM motors can be reviewed online at http://www.crateenginesforsale.com/ford-2/ford-46l-crate-engines-sale.
The 1990 introduction of the two-valve 4.6 helped the Lincoln vehicle series to gain consumer confidence. The horsepower range of 225 to 300 was used throughout the early 1990s to provide power and torque to multiple vehicles in the Ford company lineup. Vehicles like the Mustang benefited directly from the V8 performance of the 4.6 until the 5.0 engine took its place.
Because these engines are no longer in production by Ford, locating a replacement can be challenging for buyers. The new additions online of this engine type is providing resources for reviewing and purchasing these motors.
The CrateEnginesforSale.com company provides custom built engines that remain in OEM condition and ready for installation inside vehicles. New improvements have been made to the distribution network and the way the pricing is delivered to customers upon request.
One of the newest changes that has helped the company website is the addition of a quotation delivery system. Customers performing price comparisons and research can now use this new online way to receive immediate prices for any in stock engine.
The addition of the 4.6 motor is part of a Ford motor increase by this company this year. Essex, Triton and Vulcan motors were recently added for V6 and V8 engine buyers. These Ford increases are now helping to expand the company offerings for sales to all 50 U.S. states.
New terms of warranty protection are now provided to customers purchasing the inventory. These inventory changes are now part of the assurance that has been created by this company since opening its website for online sales in 2012.
About CrateEnginesforSale.com
The CrateEnginesforSale.com company currently provides Ford, Chevy, GMC, Toyota, Honda, Plymouth, Chrysler, Jeep, Eagle and other brands of engines. This company monitors its inventory levels to ensure that all buyers receive immediate access to replacement engines from the past 25 years. The CrateEnginesforSale.com company recently expanded its distribution abilities and now expedites customer shipments when placed online or through the company toll-free telephone number. The lower than MSRP pricing and regular inventory increases have helped this company stand out from competing crate engine companies online.