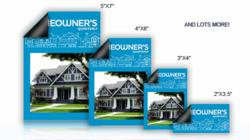 Magnets printing is useful for a number of important business applications as magnetic materials can be deployed in industrial or outdoor areas to put up signs - areas where this would otherwise be very difficult or even impractical
Astoria, NY (PRWEB) November 21, 2012
Top New York printing company 4OVER4.COM has launched a special magnets printing offer for businesses. 4OVER4.COM now provides businesses with high quality magnets printing with new low pricing and low minimums as well as a wider range of magnets printing and finishing options. 4OVER4.COM is a leader among online printing companies and a provider of quality digital and offset online printing services including postcard printing, sticker printing, poster printing, canvas prints, and other custom printing applications.
Magnets make certain jobs easier when combined with everyday printed materials whether for work or promotion/marketing. Industrial signs or illustrated boards in offsite locations would need magnets to hold steady especially due to vibration from operating equipment. Also other decorative signage may come with magnets.
Magnetic notepads, placeholders, magnetic name tags, magnetic ads and others are examples of how high quality magnets can be combined with printed materials to facilitate certain jobs.
Leading online printer 4OVER4.COM now offers a special deal on its magnets printing service. 4OVER4.COM now provides a new improved magnets printing service featuring new 17pt premium indoor magnets with new low prices, low minimums and sizes of 2" x 3.5", 4" x 6", 3" x 4", 5" x 7" and "any size" custom-sized magnets. 4OVER4.COM customers may also purchase between 25 and 25,000 prints per order.
"Magnets printing is useful for a number of important business applications as magnetic materials can be deployed in industrial or outdoor areas to put up signs - areas where this would otherwise be very difficult or even impractical," says 4OVER4.COM Principal Taso Panagiotopoulos.
For more information about magnets printing or for any updates or inquiries, please visit 4over4.com/printing/magnets, email support (at) 4over4 (dot) com or call the 4OVER4.COM customer care line on 1-718-932-2700.
About 4OVER4.COM
Online printing company 4OVER4.COM, an NYC printing firm, is a green printing company that serves tens of thousands of clients nationally and whose printing New York facility began operations in 1999.4OVER4.COM provides unmatched technical and customer support and instant online pricing and ordering for full color printing services since 1999, 4OVER4.COM has offered free expert file review and free online proofs without any obligation to purchase. As a green printing company, we are strongly oriented towards sustainable environmental renewal, and we are happy to lead the way with environmentally and socially responsible printing practices and projects among national as well as New York Printers.