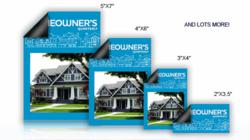 4OVER4.COM makes high quality custom wine labels and we are extending a special bulk purchase discount offer to vineries to take advantage of our professional printing service
Astoria, NY (PRWEB) June 28, 2012
4OVER4.COM, a leading provider of digital and offset printing services including flyer printing, banner printing, booklet printing and other custom printing applications has introduced a new special wine labels printing offer for vineries which allows them to enjoy lower costs when they print their wine labels in bulk from 4OVER4.COM.
Vineries face a daunting task of not only producing good wines, but having to effectively market them as well. A big part of marketing is actually the product packaging – and in the case of wines, that means everything from the bottle's shape and design to the labels. And everyone knows that the label on a bottle of wine goes a long way to form an impression in the mind of the potential buyer.
High-quality wine labels usually make a good first impression on a would-be buyer, as people generally believe that a product that looks good on the outside must be good on the inside as well, and this goes a long way to influence their decision. With the special offer from 4OVER4.COM, vineries can enjoy high-quality custom wine labels from 4OVER4.COM at discounted rates when they print in bulk.
Vineries can now lower costs by accessing high quality custom wine labels printing at lower rates from a trusted provider of professional printing services. 4OVER4.COM is renowned and trusted for the professional and affordable high quality custom printing services it provides for its clients. 4OVER4's online platform also ensures speedy ordering, printing and delivery.
"4OVER4.COM makes high quality custom wine labels and we are extending a special bulk purchase discount offer to vineries to take advantage of our professional printing service and enjoy low costs, quality printing, fast turnarounds and easy online ordering at the same time. Vineries can now enjoy lower costs when they print wine labels in bulk with 4OVER4.COM," says 4OVER4.COM Principal Taso Panagiotopoulos.
To learn more about the 4OVER4.COM wine labels printing offer for vineries or for general inquiries, please email support(at)4over4(dot)com or call the 4OVER4.COM customer care line on 1-718-932-2700.
About 4OVER4.COM
Online printing company 4OVER4.COM, an NYC printing firm, is a green printing company that serves tens of thousands of clients nationally and whose printing New York facility began operations in 1999.4OVER4.COM provides unmatched technical and customer support and instant online pricing and ordering for full color printing services since 1999, 4OVER4.COM has offered free expert file review and free online proofs without any obligation to purchase. As a green printing company, we are strongly oriented towards sustainable environmental renewal, and we are happy to lead the way with environmentally and socially responsible printing practices and projects among national as well as New York Printers.