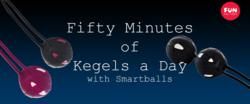 With 50 Shades of Grey success, Ben Wa balls by FUN FACTORY (Smartballs) are this holiday season's favorite stocking stuffer under $30, for women ages 18 to 80 who want to do their '50 Minutes of Kegels a Day'!
Los Angeles, CA (PRWEB) August 27, 2012
50 Shades fans caused SMARTBALLS sales to increase 600% in the USA in the last 3 months after reading the Ben Wa balls passage in the NY Times' best seller (page 362). With this explosion featured on the FOX Channel recently and the 50 Shades Movie coming out soon, Fun Factory, the German company manufacturing the Smartballs, is literally exploding. The company passed the 2 million mark in Smartballs units sold this year. They also invested over a quarter million dollars in building new machinery to produce more Smartballs faster before the holiday campaign launch: "50 Minutes of Kegels a Day." Smartballs are this year's favorite stocking stuffer under $30 dollars, for all women ages 18 to 80! During the Holidays, Smartballs are being sold in a special '50 Minutes of Kegels a Day' package.
Emilie Rosan, Marketing Manager at Fun Factory USA announces that "50 Shades is such a hit even Santa is inspired by the book's Ben Wa passage. This year, St Nick's 'Nice Girls List' consists of all the women who did their '50 Minutes of Kegels a Day'. For those who might end up on the Naughty List, it's not too late to get a set of Smartballs and start working out with the '50 Minutes program'!"
Fun Factory believes that part of this explosion in Smartballs sales is due to the fact that women of all ages are reading 50 Shades and noticing the Ben Wa balls in particular because they are a very attainable accessory in price (under $30) and easy to use. Ben Wa balls are a small Kegel exerciser worn like a tampon. They are quiet and barely felt by the woman wearing them. SMARTBALLS Ben Wa balls are medically endorsed and have been recommended by midwives and doctors since Fun Factory started selling them in European Pharmacies in the 1990's.
This year, University of Kansas Medical school made the Smartballs part of their school's physical therapy seminar on Pelvic Health. Over the last 3 months, more than 500 new Youtube videos were uploaded by members of the public as well as '50 Shades' fans mentioning the book and Ben Wa Balls. TMZ's press release about '50 Shades as tied to a Smartballs explosion' was shared on Facebook over 10 thousand times, and this is only the beginning.
With ads in Cosmo this year and "Kegel Exercising" featured on the Doctor OZ and Oprah shows, Smartballs are more popular then ever and now being given out at Women's Expos around the world, presented as the ultimate accessory for a woman's intimate workout. They are good for rebuilding pelvic muscle tissue after childbirth, preventing or curing incontinence and toning up vaginal walls for greater and easier female orgasms.
Fun Factory Smartballs are to be featured in the Holiday gift guides of the Nation's top erotic retailers as a fun stocking stuffer under $30, made in Germany with all medical-grade materials. To receive a press sample of Smartballs, please write to Emilie(dot)rosanvallon(at)funfactory(dot)com