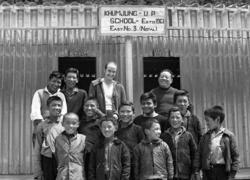 Sir Edmund Hillary's motto was simple: If you have plenty – more than enough – and someone else has nothing, then you should do something about it.
Queenstown, New Zealand (PRWEB) May 29, 2013
On the 29th of May, 1953, New Zealander Sir Edmund Hillary became the first person to return from the summit of Mt Everest. On the 60th anniversary of that famous climb, a New Zealand-based adventure tour operator is celebrating by fundraising for the Himalayan Trust, the organization Hillary founded to give back to the communities in the remote Everest region. Active Adventures have set up a website to collect donations at http://www.givealittle.co.nz/cause/ActiveAdventuresGivesBack and after chipping in the first NZ$1000, they have also pledged to match up to NZ$1000 of their clients' donations up until June 19th in an effort to raise at least NZ$3000 in three weeks.
Although Hillary might be well known around the world for conquering Everest, he is legendary in Nepal for his lifelong philanthropic work through the Himalayan Trust, a New Zealand charitable trust he founded and led from 1960 until his death in 2008. His motto was simple: "If you have plenty – more than enough – and someone else has nothing, then you should do something about it."
"All of the schools that trekkers pass by on their way to Everest Base Camp in the remote upper Solukhumbu receive support, in some way or another, from the Trust. Twenty-seven of the 63 schools in this region were built by Sir Edmund Hillary," says Prue Smith, General Manager of the Himalayan Trust. They currently provide access to student scholarships for the very poor and academic achievers, ongoing training and support for local teachers, school stationery supplies and school building maintenance in the Everest region. In an interview in 2000, Hillary said "I have enjoyed great satisfaction from my climb of Everest and my trips to the poles. But there's not doubt, either, that my most worthwhile things have been the building of schools and medical clinics."
Active Adventures has been donating a portion of their Nepal hiking tours to the Himalayan Trust since they began offering guided treks to Everest Base Camp and the Annapurna Sanctuary in 2011. They also employ and train local guides, stay in locally owned accommodation and encourage clients to donate supplies to local schools during their tour. "The people of the Himalayas have such incredible warmth and generosity of spirit, especially toward Kiwis, because of Sir Ed's good work there. It was only natural for us to follow his lead and give back in these communities, and this 60th anniversary gave us a great opportunity to do even more," says Matty Yates, a Himalayas destination specialist at Active Adventures.
Anyone interested in retracing the footsteps of the world's greatest mountaineers can join Active Adventures on their 19-day trek to Everest Base Camp. Highlights include hiking among stunning alpine scenery, viewing Mt Everest from the summit of Kala Patthar and visiting remote Buddhist monasteries while accompanied by a Kiwi trip leader and a team of local guides and porters.
About Active Adventures:
Active Adventures is a New Zealand-based tour operator specializing in bucket list travel and small-group adventures with unsurpassed personal service and attention to detail. In addition to hiking tours in Himalayas, they also run multi-activity tours in New Zealand, Peru, Patagonia, Ecuador and the Galapagos Islands. Call Matthew to discuss trips to the Himalayas and to request a brochure on 800-661-9073 (it's free!)