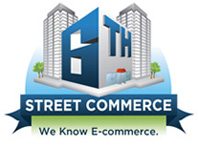 We would like to thank the selection committee for giving us this great honor of Maryland Incubator Company of the Year" David Potts, CEO & Founder of 6th Street Commerce
Baltimore, MD (PRWEB) June 18, 2012
6th Street Commerce, an innovative E-commerce solutions provider to the retail industry, today announced that the company was selected Maryland Incubator Company of the Year Award for the Information Technology category the evening of June 14, 2012.
Sponsored by The Maryland Technology Development Corporation (TEDCO), RSM McGladrey, Maryland Department of Business & Economic Development (Maryland DBED), and Saul Ewing LLP, the 2012 Maryland Incubator Company of the Year Awards are chosen in several categories by a selection committee of regional industry leaders and early-stage investors. The finalists for the 2012 ICOY Awards come from all over the state and represent a diverse cross-section of technologies and services. Award recipients benefit from publicity and gain greater credibility in the business, technology, and investment communities.
"We would like to thank the selection committee and the sponsors for this award along with the Emerging Technology Center for their continued assistance as we grow our company." David Potts, CEO & Founder of 6th Street Commerce states. "It's great to be honored for our efforts in building a new Maryland technology business and Baltimore is becoming a home for innovation as both business and community leaders work to create a new innovation environment."
"These awards showcase the many outstanding companies that have benefited from Maryland's incubator system," states Aris Melissaratos, Former Secretary of the Maryland Department of Business & Economic Development.
6th Street Commerce has developed a proprietary E-commerce software platform, SalesWarp™. SalesWarp is a unique web-based Storefront Management System that provides powerful tools specifically designed to help retailers build, manage and expand their online stores. Over the past year SalesWarp has launched extended versions of the platform, developed strategic technology and marketing partnerships, and has increased brand awareness at nationally recognized tradeshows including Magento Imagine and IRCE. Each of these accomplishments has helped the company to grow their client base, increase revenue and become recognized as a finalist for Maryland Incubator Company of the Year for the second consecutive year. 6th Street Commerce is dedicated to helping the greater Baltimore area sustain its business ecosystem by working with in-state companies and hiring local talent.