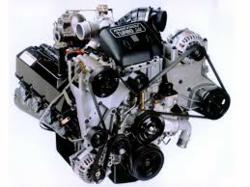 These reconditioned units have the lowest mileage possible as an additional incentive.
Bristol, Virginia (PRWEB) March 27, 2013
Ford Motor Company developed its diesel engine technology in association with other companies to provide better resources for gasoline alternatives. The partnership with Navistar International helped to build the 7.3 Powerstroke engine. The DieselEngines.co company is now selling this motor discounted online. This new diesel discount has been applied to the rebuilt Ford engines in stock. This new discount is combined with an expedited shipping service now provided for all orders. Inventory and additional details can be found online at http://www.dieselengines.co/ford-diesel-engines/73-powerstroke-engine.
Ford produced its Powerstroke technology between 1994 and 2003. This period of time helped the F series pickup trucks as well as the E series vans gain new ground in the North American auto market. Ford is now one of the largest diesel engine builders aside from General Motors.
The 7.3 V8 rebuilt engines that are now sold for the discounted prices online are expected to help owners of vehicles and companies offering installation services to save additional money. These reconditioned units have the lowest mileage possible as an additional incentive.
The mileage placed on gasoline motors has the same effect on placed onto a diesel engine. The average engine is expected to produce a specific amount of mileage before a breakdown or additional problem happens. The reconditioning of a motor is designed to increase the longevity of a former used engine block.
The DieselEngines.co company has recently upgraded the way that testing and evaluations are performed. These new tests have resulted in longer lasting motors and minimal warranty claims during the 36 month period of coverage provided. The investments made into this technology are one effort by this company to ensure higher value for customers.
The discounted Ford motors now distributed by this company are in addition to recent Chevrolet upgrades. The DMAX engine series is a popular diesel variant produced by General Motors and Isuzu. This series was recently added by this company and announced to the public online.
The current buildup of Ford and Chevrolet motors at this company is helping to raise the amount of sales generated this year. Additional engine types are scheduled for inclusion on the company website and will be announced as these engines arrive at the main warehouse location.
About DieselEngines.co
The DieselEngines.co company is a leading engine reconditioning company focusing exclusively on diesel engine variants. Inventory increases at this company have resulted in one of the largest engine inventories for diesel types located online. Brands like Cummins, DMAX, Powerstroke, Detroit Diesel, Duramax and ISB now fill the company warehouse. The DieselEngines.co company frequently discounts the engines that are sold to help buyers find better replacement motor pricing. Through online quotations and the company toll-free number, this company provides immediate forms of contact for all customers.