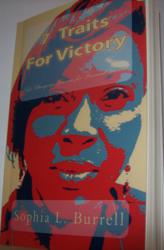 If there's an art to thinking big, it has to do with setting big goals. - Sophia Burrell
New York, New York (PRWEB) March 10, 2013
"7 Traits for Victory" is an exciting and empowering book that chronicles the achievement of Julius Caesar, Michelangelo, Christopher Columbus, Margaret Thatcher and Martin Luther King, Jr. The book discloses the characteristic traits that are similar in all leaders. The book was written to serve as a recipe for success to help high school seniors, college students and young professionals rise to the challenges of their higher self. As well, the book serve as backdrop to the "Recipe for Victory Seminars" presently running in New York City.
The book also addresses Sophia Burrell's personal experience running her own business and having to cultivate these qualities to become successful. This book provides an important step in personal development, improvement and growth. The first seven chapters are about the characteristic qualities and traits one needs to succeed, the eighth chapter, "Mastering your Blueprint" culminates with the reinforcement of human behavior and conditioning.
This is Sophia's second non-fiction book, the first was "Kiss the Little You Goodbye." She lives in New York City.