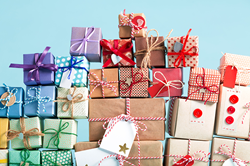 All of us here at Finance Solutions here's wishing you and yours the happiest of holidays along with a joyous and prosperous New Year. Cheers everyone!
NEW YORK (PRWEB) December 07, 2018
The Holidays are commonly referred to as "the season of giving," but for those on a budget, when money is tight, finding just the right gift for those on our holiday wish lists is challenging at best. Especially for recipients who seem to already have everything, you still want to offer them a memorable gift to enjoy into the New Year and beyond.
Although they're affordable, they gift-givers will be confident they'll come off as more costly and thoughtful presents. So without any further ado, here are eight great gifts for less than $30 that everyone will enjoy receiving.
#1 – An "Ugly" Christmas Sweater
A quick search on Amazon reveals hundreds of these trendy, popular Christmas sweaters for people of all ages, shapes and sizes. From Star Wars fans to holiday-themed caricatures, finding just the right warm and cozy outerwear for those on your list is easily customized to suit their individual style and taste. A sensation way to add a new seasonal favorite to their wardrobe and excellent for those namesake parties.
#2 – Classic Christmas Socks
Another favorite for festive feet is the gift of seasonal socks to keep holiday toes cozy and warm. Popular brands from designers like Arthur George deliver a great present as many are embellished with cute and humorous messages on the soles. With most priced at $15 per pair, this is an affordable choice along with a fun and festive way to say Happy Holidays.
#3 – Cookbooks With Cravable Recipes
With the popularity of food channels reigning scrumptiously supreme and seen on screens everywhere, signature cookbooks from celebrities are all the rage nowadays. Fans of Chrissy Teigen are gobbling up her "Cravings" cookbooks available everywhere from Amazon to Walmart at reasonable rates.
#4 – More From Chrissy For Christmas
Due to Ms. Teigen's growing popularity with the culinary crowd, Cooking Light recently revealed a collection of her signature dishes, this time in the form of mugs, cups, plates and more available from Target. Starting at just $5.99 per piece, a pair of place settings is an easily affordable option for holiday shoppers.
#5 – Rocking Agate Coaster
For rock lovers and fans of geology in general, Anthropology offers a wide selection of agate coasters available in a variety of colors. As individual as the rocks themselves, your choice will be as unique as the recipient of any of these beautiful pieces.
#6 – For Cold Brew Coffee Lovers
One way to save money is brewing coffee at home and for lovers of those cooler caffeinated beverages, Hario makes an affordable Cold Brew Coffee Pot perfect for this task. Available at Bed, Bath & Beyond for $24.99, members of the Beyond + program can nab one for less.
#7 – The Scent of Chestnuts for Christmas
"Chestnuts roasting on an open fire," is a common scent associated with the holiday season. A spicier chestnut aroma is captured by Sonoma Williams in their Spiced Chestnut Kitchen Essentials Kit. This handsome gift set comes complete with countertop spray, hand and dish soap in a beautiful package perfect for the woman (or man) with a completely stocked kitchen. Use the code "MERRY" during checkout and get this gift for only $19.99 (a 25% discount along with free shipping).
#8 – Vintage Pigskin from Ridley's Sports
Football is synonymous with fall and winter as many sports fans enjoy watching the games during the holidays. Throwing around the pigskin outdoors is also a tradition with many families around Christmas time. Ridley's Sports makes an awesome, Classic USA Style Vintage Football (complete with inflation pump needle adaptor). Score one from Amazon for less than twenty-five bucks including shipping.
In closing, from all of us here at Finance Solutions here's wishing you and yours the happiest of holidays along with a joyous and prosperous New Year. Cheers everyone!
About Finance Solutions
Finance Solutions is a leading financial services company that provides information about debt relief programs which are designed to help consumers achieve payment relief and reduce debts. Founded in 2007, Finance Solutions works with individuals struggling with debt to explain their options and develop a customized plan. Finance Solutions has helped thousands of consumers reduce their credit card debt through strategies that align with their budgets and goals. More information can be found at https://financesolutions.org.
If you are struggling with large amounts of high-interest credit card debt, contact the specialists at Finance Solutions today at (855) 331-4852 to receive a FREE debt analysis. They will review your current situation and develop a customized plan to help you reduce your credit card debt.