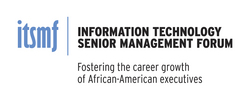 We provide a supportive network for enhancing the leadership skills of the IT executives that make up our membership; and our formal mentoring program assists dedicated mid-level managers to grow into executive level positions
Chicago, Illinois (PRWEB) February 6, 2008
Information Technology Senior Management Forum (ITSMF) is pleased to pay tribute to five executives from leading luminaries in technology, like Lockheed Martin, NASA Goddard Space Flight Center (GSFC), the US Department of Education, RS Information Systems and the Federal Aviation Administration at the ITSMF Awards Gala. The ceremony honors these individuals for their extraordinary contributions to the advancement of technology and diversity in the information technology profession. The gala, featuring a keynote address from well-known broadcaster Tavis Smiley, is set for February 8, 2008.
The honorees are:

Linda Gooden, executive vice president, Lockheed Martin, Information Systems & Global Services will receive the ITSMF Diamond Leadership Award. This award pays tribute to her support of the IT profession, her commitment to role-modeling/mentoring, and her support of diversity initiatives in the IT industry. She has served on numerous executive boards including Armed Forces Communications and Electronics Association (AFCEA) International; Information Technology Association of America (ITAA); University of Maryland's A. James Clark School of Engineering and Robert H. Smith School of Business' Center for Electronic Markets & Enterprises; Prince George's Community College Foundation; and the Executive Leadership Council.
Rodney P. Hunt, the owner and founder of RS Information Systems (RSIS), is the recipient of the ITSMF Beacon Award. This award is given to an entrepreneur or small business leader of an information technology firm who has demonstrated innovation or lead significant growth in the IT industry as well as supporting diversity through role-modeling and mentoring activities. RSIS is the 16th largest African-American owned company in the US and largest in the DC metro area.
Linda Y. Cureton, director, chief information officer, NASA Goddard, will receive the ITSMF Summit Heritage Award. This award acknowledges thought leaders in the information technology field. Cureton has had a broad range of responsibilities throughout her career, including for: strategic planning, network and information security, information architecture, capital planning and IT investment, network and telecommunications services, operational support of voice, data, video, LAN/WAN, and computer systems, and application development and maintenance for corporate systems.
Danny A. Harris, PhD, deputy chief financial officer, US Department of Education is the recipient of the ITSMF Ivory Dome Award. This award recognizes individuals dedicated to the education and advancement of IT students. Through these efforts Dr. Harris contributes to the mission of ITSMF: filling the pipeline with the next generation of African American IT leaders. Dr. Harris is a 20 plus year veteran of the US Department of Education, advises the College of Southern Maryland on IT issues and is adjunct professor at Howard University, teaching courses in Computer Technology,
James H. Washington, vice president, acquisitions and business Service, Federal Aviation Administration is the recipient of the ITSMF Sterling Leadership Award. This award praises a senior level executive within the public sector for IT thought leadership, active personal role-modeling and mentoring, and advocacy for increasing contracting opportunities for small, minority, and women-owned businesses. Washington's tenure at the FAA has been marked by many awards for distinguished service and several key acquisitions, including the recent $1.8 billion contract for the delivery of airborne surveillance services, called automatic dependent surveillance broadcast (ADS-B).
The ITSMF Gala Awards sponsors are Freddie Mac, PepsiCo, Dell, Deloitte, Lockheed Martin, Microsoft, Oakland Consulting, Delta, EDS, Hewlett-Packard, Johnson & Johnson, Proctor & Gamble and Wachovia.
About the Information Technology Senior Management Forum
The Information Technology Senior Management Forum (ITSMF) is the only national organization dedicated exclusively to fostering senior-level executive talent among African-American IT professionals.
"We provide a supportive network for enhancing the leadership skills of the IT executives that make up our membership; and our formal mentoring program assists dedicated mid-level managers to grow into executive level positions," said Viola Thompson, spokesperson for ITSMF. "We draw our strength from two major sources, our members - senior IT executives from corporations, governmental bodies, universities or owners of well established technology businesses - who share the knowledge and skills that have enabled them to arrive and thrive in key management roles. We also benefit from the funding and expertise provided by our corporate partners interested in fostering and recruiting diverse executive talent."
Media Contact:
Pamela Wedgeworth
Information Technology Senior Management Forum - ITSMF
708-445-8585
708-445-9285
pamela(at)wedgeworthbiz.com
itsmfonline.org
###