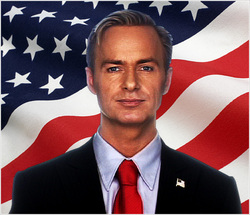 AMERICAN ROLE MODELS is an initiative to show people how it is possible to undertake a complete personal transformation that will change their lives forever
Washington, D.C. (PRWEB) January 5, 2009
AMERICAN ROLE MODELS , A SECOND LIFE's nationwide, educational webtv project that aims to get America back on its feet, is seeking five unemployed Americans.
A SECOND LIFE is presently looking for five unemployed U.S. citizens who are willing to undertake a five-week transformation program that will help each one get back on their feet by being re-programmed and activated in accordance to the teachings and principles of A SECOND LIFE. The program is free of charge to all participants. It is tailor-made with the purpose of radically transforming all aspects of someone's life. A carefully selected expert team of specialists will be covering all aspects of one's life (including the corporate world) and will be assisting and re-training the five "selected" in their transformation.
Purpose of the five-week program:
To help people down on their luck to get a second chance in life, by getting re-programmed and activated to a new better existence, as well as getting a new job. All participants will, with their full commitment, obtain employment after completion of the five-week program. The five participants' progress will be documented through filming and broadcasted weekly as an instructional medium, which will be free for viewing on YouTube. The selected five will serve as role models for other Americans in the same unfortunate situation. These viewers will be able to from their own home duplicate the program as well as be inspired to achieve the same successful results as the five participants. By duplicating and committing to A SECOND LIFE's principles and belief system the rest of America will get the help, assistance and guidance needed to get back on their feet again as well as regain control of their lives.
"AMERICAN ROLE MODELS is an initiative to show people how it is possible to undertake a complete personal transformation that will change their lives forever," says Christian Schoyen, founder of A SECOND LIFE.
Applications for the first season of AMERICAN ROLE MODELS accepted January 1st - January 27th 2009.
For more information go to http://www.asecondlife.com/members/usrolemodels/
Press contact:
Ian Weinreich
A SECOND LIFE
(202) 756 -4880
# # #