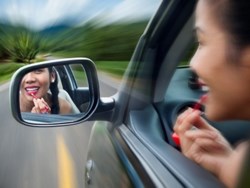 the proposals made by the ABI seem to make sense
(PRWEB UK) 18 March 2013
It is well documented that young drivers' car insurance premiums are the highest amongst motorists. The average annual premium of a 17-18 year old driver in the UK is £1,853 which, for many newly qualified young drivers, prices them off the road.
The Association of British Insurers (ABI), the voice of the UK insurance industry, has submitted proposals to the Government that it claims could save young drivers up to 20% on their car insurance premiums, saving young drivers as much £370 per year. The following suggestions were part of their ABI submission:

Enforcing a minimum learning period of one year for young drivers
Limiting the number of young passengers and restricting night time driving for young drivers for an initial period after passing their driving test
Zero blood alcohol driving limit for an initial period after a young person passes their driving test
According to the DVLA there are almost 3 million driving licence holders aged between 17- and 24 and this group would be most affected by any changes that are implemented.
Otto Thoresen, the ABI's Director General, said: "Every car crash is a personal tragedy for those involved, family and friends. Sadly young newly qualified drivers are at a much higher risk of having a serious crash on our roads which is reflected in the cost of their car insurance. Insurers want to see young drivers become safe drivers which in turn will result in more affordable premiums. If the Government implemented the ABI's proposals lives would be saved and the cost of car insurance for young drivers could reduce by 15-20%."
Andrew Goulborn, Commercial Director for car insurance comparison site Tiger.co.uk, commented: "Younger drivers present a greater risk to insurers due to the increased occurrence of accidents amongst the group and this is reflected in the insurance premiums quoted. The introduction of telematics car insurance presents an opportunity for younger drivers to reduce their premiums once qualified and, importantly, reward safer driving. But the proposals made by the ABI seem to make sense in terms of both improved road safety and the potential reduction in car insurance prices for younger drivers."
About http://www.tiger.co.uk:
Tiger.co.uk is a trading name of Call Connection Ltd. Tiger.co.uk is a UK based, independent motor insurance comparison site, offering insurance quotes from over 150 insurance brands. Call Connection Ltd is authorised and regulated by the Financial Services Authority (number 308374).
Attribution - http://www.abi.org.uk/Media/Releases/2013/03/Car_insurance_premiums_could_fall_by_up_to_20_for_young_drivers_.aspx