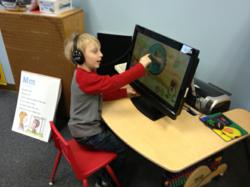 "Children who attend Abilities First Preschool, School, and School-to-Work Programs have an incredible advantage with access to incredible tools and technology for learning."
-Marybeth Cale
Wappingers Falls, New York (PRWEB) March 28, 2013
When Abilities First opened its Little Red Schoolhouse back in 1962, little did anyone know that education would one day be transformed by technology, particularly for children with special needs.
Recently, Abilities First, which now serves over 1100 individuals with disabilities throughout the mid-Hudson Valley region and has educational programs from Red Hook to Beacon, began to use H@tch computer systems for their young preschool students. By providing a fully interactive learning experience for children with a variety of processing disorders which may impact speech and communication, sensory input, learning, and movement, H@tch systems have become a successful solution for special needs schools. Because the systems are designed to assess exactly what each child already knows and understands, and are based upon maximizing a total of eighteen core skill areas, teachers and therapists are better able to address any deficits and parents report better outcomes. The touchscreen computer by iStartSmart is not only accurate in providing the progress data necessary to giving a child the greatest chances for success, but it is fun and enjoyable for the children.
"Through the use of fun and educational games and activities, children can work independently on eighteen skill areas, al of which are aligned with Early Learning Standards. Children must demonstrate competency in one area before moving to another, and the teachers can monitor and view detailed progress reports at any time", shares Leann Coyle, Director of Abilities First Preschool. "Lesson plans can be developed around specific skill areas and with specific groups of children. And the children are delighted with the experience; in just a short amount of time they have declared that the interactive stories are their favorite part of the system".
Abilities First New York provides educational, vocational, and residential services for individuals with disabilities throughout the life span. They recently received accreditation through CQL for person-centered care, and have been tireless advocates in New York State for their program participants in light of proposed budget cuts. For more information, please call 845.485.9803.