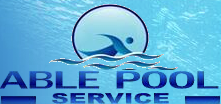 Able Pool Service, A South Carolina based SC pool maintenance company is now offering services on "No Contract". The opportunity is available for weekly, biweekly and monthly packages.
(PRWEB) September 06, 2012
Able Pool Service announces "No Contract" SC pool repair plans on the weekly, biweekly and monthly packages.
Pools need proper maintenance time to time. Continuing with contractual maintenance services seems difficult some time and Able Pool Service frees one from this burden. The South Carolina based company is now offering SC pool maintenance services without any contract. Clients now have option to discard service anytime they prefer. Mr. Citarth, the owner of the company considers that this facility will increase the number of clients because they have the option to turn down the offer in case of dissatisfaction. This facility is available for weekly, biweekly and Monthly maintenance packages of the company.
He explained the latest plan in short during an interview. He says, "The contract type SC pool repair and maintenance services include different facilities for clients. From surface cleaning to pool equipment operation and inspection, all-important tasks are included in all the three categories. Clients can enjoy the liberty of no-contract and can also apply for discounts as well if they want."
Tile brushing and pool surface cleaning is the most important part of this sc pool maintenance service. Along with this, clients can opt for testing services as well to adjust the salt level in pool water.
Mr. Sarti Sbin the sale and marketing head of the company says a few words on there approach to offer "No contract" sc pool maintenance services. According to him, "Customer will like this maintenance service as they have more to benefit out of this plan. However, options are limited and we will ask clients to go for it right now to enjoy all the facilities available in the no contract packages."
Mrs. Jolie wanted a professional yet reasonable sc pool maintenance service providing company to clean her pool and re-fix the equipments. She has now an easy option to get more than what is required. She says, "Didn't have particular idea of pool maintenance. Now have more options to keep it clean with Able Pool Service's no contract plans."
Facilities in biweekly and monthly sc pool maintenance category are same like weekly maintenance. Only water chemistry balancing service is an additional part in monthly service category.
About the company: Able Pool Service is a South Carolina based SC pool maintenance service providing company. The professionals work in areas like Chapin, Lexington. Columbia, etc. The company has different service plan for scheduled pool maintenance. To know more visit http://www.ablepoolssc.com.