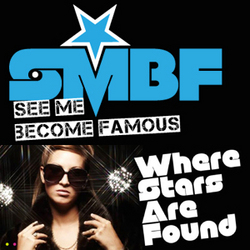 When you become famous, being famous becomes your profession – James Carville
Phoenix, AZ (PRWEB) March 14, 2011
Now, talented entertainers and models have a place to call their home. Starting March 2011, SeeMeBecomeFamous.com's many features include music, video, photos, and document uploads for its members. Talented members will be able to set up their own photo album and blogs. Participate in the forum and chat with their fans. Special groups are set up to concentrate on our member's special interests and while they are making and growing fans; take advantage and upload music clips, photo calendars, music and dance videos and more in our online classifieds. SeeMeBecomeFamous.com will add new and exciting resources such as music video production, professional photography, talent coaches, fashion advice, and other services to name a few.
Dale Imbriani and Dan Ketterer, co-founders of SMBF, launched this site when they realized that there were not enough "dedicated" and feature-rich talent search social networks. There are many sites out there, but very few that enable its members to "really" build their fan base while at the same time promoting their talent.
The growing trend of new talent is upon us! Since the beginning of popular reality shows like American Idol, The Apprentice, So You Think You Can Dance, and America's Got Talent; the craze to be famous is what's on every young and old and talented person who thinks they have what it takes. The roadblocks are weakened now and access to the "right" people comes as easy as making it on the right show. Well, SMBF can be that extra boost that is needed for one of them to give our member that important call.
D & D Entertainment, LLC See Me Become Famous was founded in 2010 and is privately held and headquartered in Phoenix, Arizona.
You can follow SMBF on Twitter at http://www.twitter.com/gotosmbf and Facebook at SeeBecomeFamous Fanpage!
# # #