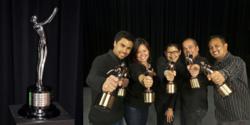 With these awards, we stand by our commitment to celebrate the best in the Filipino and reflect true Filipino sentiment in the global arena . We shall continue to deliver world-class service and content that Filipinos can be truly proud of."
Redwoord City, CA (PRWEB) June 20, 2011
True to its continuous commitment to excellence, ABS-CBN International's The Filipino Channel (TFC) received national recognition for five industry awards it won recently in the U.S.
Its entry of "Streets of My Lolo" won silver for Best in Art Direction & Design: Public Service Announcement at the 2011 PromaxBDA Local Awards held in the PromaxBDA Station Summit in Las Vegas on June 9. (The gold award went to NBC Miami Media/Mother New York for "Earth Week"). Announced this month from New York are ABS-CBN International's victories at the 32nd Annual Telly Awards where it won three bronzes for the same video, "Streets of My Lolo", in the categories of Social Issues, Use of Graphics and Editing. Another Telly bronze was captured for "Bayaning Pilipino: Little Manila Foundation" in the Documentary category.
"Streets of My Lolo" is a short piece that was created for and shown at the 2010 Filipino American History Month Celebration at the San Francisco City Hall, co-presented by the Office of then Mayor Gavin Newsom, the Philippine Consulate General of San Francisco, Filipino American Arts Exposition, SOMA Pilipinas and ABS-CBN International. It highlighted the efforts of SOMA Pilipinas to preserve Filipino history and heritage in the streets of South of Market, San Francisco which served as an early settlement for many Filipino immigrants.
"Bayaning Pilipino: Little Manila Foundation" was aired on TFC via Bayaning Pilipino sa America 2010, chaired by now ABS-CBN Corporation's Senior Vice President for News & Current Affairs Ging Reyes and produced by ABS-CBN International's News Production Head Vivian Zaldivea Araullo. The video narrated the struggles and triumphs of Filipino American pioneers who built their community south of Main Street in Stockton, California.
Both award-winning video segments were written and produced by Pia Lopezbaños-Carrion who heads the Ad & Promo unit of ABS-CBN International under North America Media Events and Production Group & Global Customer Engagement Head John-D Lazatin. Her team included videographer Jeremiah Ysip, editors Danny Manasala and Mitos Briones, with Mike Carrion providing art direction.
"We were thrilled by these twin distinctions," said Lopezbaños-Carrion. "We set out producing these videos inspired and enamored by the great miracles being done by unsung heroes for our Filipino community in the U.S. To be recognized for the passion and work behind these videos is a true positive reinforcement and validation that we're doing something good and right."
For the Telly Awards, ABS-CBN International was selected from nearly 11,000 entries from all 50 states and numerous countries. The Telly Awards is the premier award honoring outstanding local, regional, and cable TV commercials and programs, the finest video and film productions, and web commercials, videos and films. Winners represent the best work of the most respected advertising agencies, production companies, television stations, cable operators, and corporate video departments in the world.
PromaxBDA is the leading global association for marketing, promotion and design professionals working in the entertainment industry. The PromaxBDA Local Awards were developed to celebrate excellence, creativity and innovation in local television promotion, marketing and design. With a combined membership of over 3,000 companies and individuals drawn from more than 70 countries, PromaxBDA is a truly international organization uniting the individuals who will pioneer tomorrow's electronic and broadcast media.
ABS-CBN International has joined its parent company, ABS-CBN Corporation in the Philippines, as recipients of PromaxBDA Awards. ABS-CBN has previously won Promax World Silver Awards for TV Spot "Mountaintop" in 2008, Station ID "Lipad ng Pangarap" and Print Category Studio 23 in 2006, Station ID "Isang Dugo, Isang Lahi, Isang Musika "in 2005 and a Gold Award for "Boto Mo, Ipatrol Ko" in 2007.
"This has been an outstanding year of awards for ABS-CBN in North America," said ABS-CBN North America Managing Director Olivia De Jesus. "Prior to us winning both Telly and PromaxBDA awards for TFC, we celebrated our CableFaxies Multicultural Marketing Award for MYX TV, the country's premier Asian American television network. To be in consistent company of big name winners like Fox, Turner Studios, NBC, Disney and Nickelodeon is strong proof that ABS-CBN has been raising the banner of Filipinos in the mainstream media industry."
"With these awards, we stand by our commitment to celebrate the best in the Filipino and reflect true Filipino sentiment in the global arena," said ABS-CBN Global COO Raffy Lopez. "We shall continue to deliver world-class service and content that Filipinos can be truly proud of."
"Streets of My Lolo" can be viewed at http://vimeo.com/17812990, while "Bayaning Pilipino: Little Manila Foundation can be viewed at http://vimeo.com/16000733
About ABS-CBN International
ABS-CBN International was created over 15 years ago to be of service to all Filipinos. With the launch of The Filipino Channel (TFC), the company became the first and most successful Filipino broadcaster in the U.S. The company offers telecommunication, retail, theatricals, money remittance and cargo services, online audio and video streaming, IPTV, On Demand, along with philanthropic support for Filipinos and the communities they now call home. Based in Redwood City, CA, ABS-CBN International is a subsidiary of ABS-CBN Corporation, the Philippines' largest entertainment and broadcasting company, through ABS-CBN Corporation's wholly-owned subsidiary, ABS-CBN Global Hungary Kft. For more information, visit http://www.abs-cbnglobal.com.
###