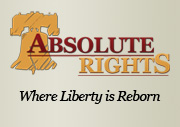 Absolute Rights knows the importance of being prepared for a major food shortage, which is why they have released the Special Report "When the Food Runs Out."
Austin, TX (PRWEB) September 30, 2012
The impending food shortage that's about to make a major impact in the world's supply is the topic of the latest article from AbsoluteRights.com.
Tim Young, Managing Editor at Absolute Rights, wrote the article and pointed out that corn and soybean production has dropped significantly. This means, according to Young, "we will see more shortages of other foods and prices increasing across the board in 2013."
"The most recent industry to be hit by the corn and soybean shortage?" asked Young in the article. "Pork. According to Britain's National Pig Association, pork production will be significantly cut this year due to a lack of feed that would come from the two crops mentioned above."
Young shares this piece of advice with readers: "If you want to eat bacon in 2013, you may want to stock up on it now, or get ready to dig deeper into your pockets."
Absolute Rights knows the importance of being prepared for a major food shortage, which is why they have released the Special Report "When the Food Runs Out." It shows preppers how to choose and sore the goods they'll need in a crisis situation.
Tim Young, a native of Baltimore, Maryland, joined Absolute Rights in the spring of 2012 and brought his brutally honest opinions with him. He has been consulted as an expert on campaign, social security, health care and labor policies. A professional stand-up comic, Young combines his political and comedic background to add a captivating voice to Absolute Rights' mission of rights protection.
Be sure to follow Tim on his various social media channels, including Facebook, Twitter, and Absolute Rights' YouTube Channel. Learn all the information available before making any political decisions, says Young, and as always, "Be smarter than they think you are."
Absolute Rights informs patriotic Americans on their given rights, plus helps protect those rights from government or disaster intrusion. Most importantly, it prides itself on alerting people when their rights are being threatened, creating an active and informed community. For more information, be sure to visit AbsoluteRights.com.