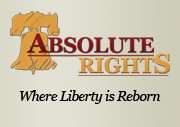 While the latest report states that unemployment increased by 0.1%, Young says that 171,000 jobs added to the economy from the same report is "a convenient number."
Austin, TX (PRWEB) November 04, 2012
A recent article from Absolute Rights Managing Editor Tim Young looks into the latest jobless numbers, and how they may ultimately affect the upcoming election.
While the latest report states that unemployment increased by 0.1%, Young says that 171,000 jobs added to the economy from the same report is "a convenient number."
"The President is still riding high after the unemployment number dropped below 8% for the first time in four years last month..." wrote Young in the article. "But keep in mind that that number only shows that 7.9% are reporting that they are unemployed rather than the experts estimates that [say] roughly 1 in 5 people are jobless in this country."
Young ends the article with a question directed to his readers: "Do you think these job numbers will make a difference in this election?" Comments are encouraged on this and all AbsoluteRights.com articles.
Information like this is available on a daily basis from Absolute Rights. Through regular articles, a semiweekly Newsletter, and a mixture of video, social media, and other engaging content, Absolute Rights is keeping audiences informed and spurning conversation on the sometimes controversial issues.
Tim Young, a native of Baltimore, Maryland, joined Absolute Rights in the spring of 2012 and brought his brutally honest opinions with him. He has been consulted as an expert on campaign, social security, health care and labor policies. A professional stand-up comic, Young combines his political and comedic background to add a captivating voice to Absolute Rights' mission of rights protection.
Be sure to follow Tim on his various social media channels, including Facebook, Twitter, and Absolute Rights' YouTube Channel. Learn all the information available before making any political decisions, says Young, and as always, "Be smarter than they think you are."
Absolute Rights informs patriotic Americans on their given rights, plus helps protect those rights from government or disaster intrusion. Most importantly, it prides itself on alerting people when their rights are being threatened, creating an active and informed community. For more information, be sure to visit AbsoluteRights.com.