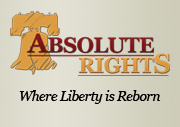 Newsletters are distributed via email and the articles then appear online at AbsoluteRights.com.
Austin, TX (PRWEB) November 26, 2012
The most recent Absolute Rights Newsletter was sent out late last week, and in it Managing Editor Tim Young and his contributing writers have shared valuable information and insight on political, survival, and foreign topics and issues.
The main featured article was produced by contributor Brent Dickerson, who provided his thoughts on the current Liberal perspective, which in his mind needs to be adjusted. "hypocritical" is the word used to describe Liberals, and Dickerson lays out some examples including Al Gore and a San Francisco nudists.
"I think this just goes to show that liberals are nothing but selfish. They want what they want, and to hell with logic or fairness," wrote Dickerson. He continued on to say that "the left has tendencies to give out social welfare while taking away rights… the first being your right to consume what you would like."
In the Crisis Ops portion of the Newsletter, contributor Eric Pickhartz made the case for an awareness of the impending food crisis in the midst of everyone's gigantic Thanksgiving feasts.
"While the mood surrounding the upcoming holiday and the following weekend is supposed to be festive and thankful," Pickhartz wrote, "there's an important reminder we all need to keep in mind while we stuff ourselves with good food. With just a few interruptions, the food supply chain we all depend on could be drastically altered."
More information on developing an emergency food supply can be found on the Absolute Rights website, or in the Lamp Lighter Report, an extended printed monthly report with political and survival information.
The Contender's Corner Newsletter section is devoted to the whereabouts of Mitt Romney in the wake of his Presidential defeat. Young wrote the article, and in it he shares some insight on the post-campaign actions of the Republican nominee.
"Mitt Romney has been seen taking a break from the limelight by vacationing in his home near San Diego," the article said. "For all of those people out there that think that Mitt was an elitist who never did anything for himself, think again. The former candidate for President has been seen pumping his own gas multiple times as well as heading out to dinner and to see the Twilight movie with his wife Ann."
At the end of the Newsletter readers will find the Global Watch section, which shares current news from the controversy in the Middle East between Hamas and Israel. A ceasefire has been initiated, but Young has doubts based on what those in the know believe.
"According to many foreign experts, this ceasefire has very little chance of lasting," wrote Young. "Iran was rumored to be sending weapons to Hamas forces in order to add fuel to this fire. Only time will tell what will be in store for this region of the world as the peace there progressively dissolves over time."
The Absolute Rights Newsletter is sent to thousands of Absolute Rights email subscribers as part of the never-ending effort to bring relevant and captivating content directly to readers. Newsletters are distributed via email and the articles then appear online at AbsoluteRights.com.
Tim Young, a native of Baltimore, Maryland, joined Absolute Rights in the spring of 2012 and brought his brutally honest opinions with him. He has been consulted as an expert on campaign, social security, health care and labor policies. A professional stand-up comic, Young combines his political and comedic background to add a captivating voice to Absolute Rights' mission of rights protection.
Absolute Rights informs patriotic Americans on their given rights, plus helps protect those rights from government or disaster intrusion. Most importantly, it prides itself on alerting people when their rights are being threatened, creating an active and informed community. For more information, be sure to visit AbsoluteRights.com.