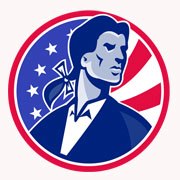 The hottest topics surrounding recent political discussions are highlighted by the latest Absolute Rights Newsletter.
Austin, TX (PRWEB) March 08, 2013
The hottest topics surrounding recent political discussions are highlighted by the latest Absolute Rights Newsletter. Managing Editor Tim Young and his expert contributing writers have gathered the best and most talked about articles and sent them to readers through their Digital Newsletter subscription service.
The main article was written by Grady Kerr, who looked into the infatuation Americans seem to have with Wal-Mart.
"Americans spend $36 million at Wal-Mart every hour of every day," Kerr wrote. The argument against the rise of the superstore has some concerned about smaller, independently-owned business, and Kerr addresses that issue in the article as well.
"The truth is Wal-Mart is competitive and simply offers merchandise for less. This free market system works for the local consumer and, yes, this does drive others, who can't compete, out of business," said the article.
The next article comes from contributor Brent Dickerson, who investigates the relationship between President Obama and the mythical Keyser Soze from an old Kevin Spacey movie.
A recent quote from Rush Limbaugh sparked Dickerson's mind to give his perspective of an Obama-led America a certain pop culture twist. Dickerson refers to the things he believed Obama likely caused, but "will never be a burden to him or his administration."
The following Newsletter article highlights the recent news of the Department of Homeland Security accumulating a huge amount of ammunition with no distinct reason why.
"In the past 10 months, estimates show that DHS has stockpiled nearly 1.6 billion rounds of ammunition," wrote Dickerson. "Some speculate that there may be a homegrown terrorist threat or an influx of illegal immigration, but do either of those speculations warrant 1.6 billion bullets?"
One theory, says Dickerson is that "If DHS purchases the most popular forms of ammunition, .40 caliber and 9MM, then they are in essence creating a shortage. There is a lack of supply for the citizens, prices increase, and bingo-bango you have a type of gun control."
The final article from the Digital Newsletter is an op-ed piece shining light on the distribution of wealth in America. The idea of keeping things fair and balanced can't be achieved without work, but the article claims there are no plans to make it work.
"It's about self-reliance, hard work, ingenuity, honesty, integrity, and perseverance. We must stop using the tactics currently employed by our leaders… If the goal is to help people escape poverty then giving money earned by hardworking citizens to those who have done nothing to earn that money will not teach the lessons that need to be learned in this nation," the article said.
The Absolute Rights Newsletter is sent to thousands of Absolute Rights email subscribers as part of the never-ending effort to bring relevant and captivating content directly to readers. Newsletters are distributed via email and the articles then appear online at AbsoluteRights.com.
Absolute Rights is the fastest growing news and opinion site on the web. It is providing content and insight on the hottest topics circulating through the web and beyond. For more information on the site, go to AbsoluteRights.com.