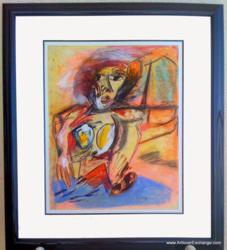 The Waterfront home and the De Kooning will be sold at Live Auction
Ponte Vedra Beach, FL (PRWEB) March 28, 2012
What makes an auction so tantalizing? Why would people flock to auctions to purchase property that might otherwise continue to sit unsold for long periods of time? Nicholas Varzos of Exclusively Auctions suggests that it's 'greed', man's rapacious desire for wealth or possessions - especially at a low cost of acquisition.
Do $1 Homes pique buyer interest? On April 12th, Thursday, in Ponte Vedra Beach, FL. Exclusively Auctions will up the ante' in the auction world. In addition to the obvious value of $1 Homes that will be offered in their April auction, a rare piece of art by Willem de Kooning will also go on the block.
Although most items are being sold 'Absolute' (with no minimum selling price) some items are being offered with seller reserves. The unique part of this 'Guaranteed-Sale" auction is that any item with reserve that remains unsold will be put into the next auction. At that next auction, the property will be offered either 'absolute' or with a lowered reserve. This process will be repeated for sellers at no additional cost until the item is ultimately sold to the highest bidder.
To make the auction available to a larger audience, Varzos has developed a high definition online live-auction TV channel for bidders to use. Unlike other current technologies that broadcast real time events, the Exclusively Auctions TV channel does not require the user to have special technology or skills. It's just like a television - simply click a link and the auction immediately broadcasts live anywhere in the world.
Bidders can register today to bid for $1 Homes, original artwork, luxury cars, waterfront estates, and the excitement of a live auction. The catalog contains art images by Willem de Kooning, Susanne Schuenke, Joan Miro, Itzahk Tarkay, Bill Mack, and Peter Max. The keystone item is a $3-Million dollar waterfront home that will be offered absolute auction with no minimum price.