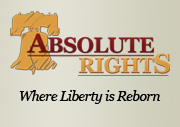 Absolute Rights prides itself on alerting people when their rights are being threatened, creating an active and informed community.
Austin, TX (PRWEB) September 17, 2012
Absolute Rights has published its semiweekly Newsletter, and it included articles on surviving pandemic flu, finding water in a crisis, the Libertarian Presidential candidate, and the recent US Embassy attacks.
David Morris, Absolute Rights contributor, wrote the main article on a deadly scenario that could arise if a flu pandemic were to spread in the US. The idea for the piece stemmed from a book written by a military futurist and war-gamer, who believed a serious pandemic could be one of the most catastrophic occurrences in America.
"Imagine for a second that a particularly nasty strain of influenza develops like the deadly 2009 strain that hit the Ukraine that ended up being labeled Viral Hemorrhagic Pneumonia," write Morris in the article. The likelihood of such an event needs to be prepared for, the article said.
The Crisis Ops section of the Newsletter included valuable information on finding clean water in a crisis situation. It's one of the most important aspects of survival preparation, but is often overlooked by beginning preppers.
"Whichever way you collect water," said the article, "it is always important to clean it before you drink it."
In the Newsletter's Contender's Corner section, Absolute Rights Managing Editor Tim Young informed readers about Gary Johnson, the Libertarian Presidential candidate. Though viewed as a radical by Republicans, Young said that Johnson matches up with many common American ideals.
"Johnson," Young said in the article, "the former 2-term Governor of New Mexico, was running as a Republican for President until just a few months ago. Even though he was holding down roughly 9% of the primary vote, he was rarely, if ever, invited to participate in the 30+ debates that were held by the GOP."
"He is a reasonable third party candidate for President, even though, as I have said many times in the past, voting for third party candidates does nothing more than take away votes from the major candidates," Young said.
Global Watch, the Newsletter's international affairs portion, commented on the Embassy attacks in Yemen, Libya, and Egypt. The US Ambassador to Libya, Christopher Stevens, died as a result of one attack, and the article said the Muslim violence is originating from an anti-Muslim movie.
"The Romney/Ryan campaign has been on the attack, blaming this on the foreign policies of President Obama," said Young in the article. "It just seems as if Americans are less safe in the Middle East than they were in the past… but who is to blame?"
The Absolute Rights Newsletter is sent to thousands of Absolute Rights email subscribers as part of the never-ending effort to bring relevant and captivating content directly to readers. Newsletters are distributed via email and the articles then appear online at AbsoluteRights.com.
Tim Young, a native of Baltimore, Maryland, joined Absolute Rights in the spring of 2012 and brought his brutally honest opinions with him. He has been consulted as an expert on campaign, social security, health care and labor policies. A professional stand-up comic, Young combines his political and comedic background to add a captivating voice to Absolute Rights' mission of rights protection.
Absolute Rights informs patriotic Americans on their given rights, plus helps protect those rights from government or disaster intrusion. Most importantly, it prides itself on alerting people when their rights are being threatened, creating an active and informed community. For more information, be sure to visit AbsoluteRights.com.