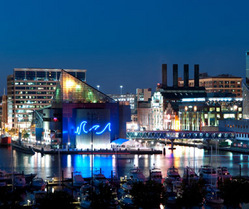 This may be the first ever Absolute Auction with Guaranteed Financing.
Baltimore, MD (PRWEB) April 5, 2011
Financial managers are talking about the tsunami of Americans that have suffered foreclosure credit loss. Most of these families otherwise have perfect credit. Now in Baltimore MD, these credit victims are eligible to purchase at Absolute Auction, a Penthouse residence on the inner harbor - with guaranteed financing to boot! Exclusively Auctions and Tranzon Fox will sell to the highest bidder one such residence on Thursday, April 21st.
An 1800 sq ft luxury residence in the new financial center of Baltimore with a water view is going to be sold at absolute auction on Thursday, April 21 - 5:00pm EST. Bidders must register in advance and can bid live in person or online during this likely first-ever guaranteed financing auction.
In the face of reserve and hanky-panky minimum bid style auctions, this new format turns the industry on its heels. Whether the final bid is $1 or $1Million dollars, this Penthouse will be sold. It is not 'subject to bank or seller approvals' of the bid-price. The highest bidder will take it all. What's more, financing is guaranteed to all bidders.
Frequently, banks use firms like REDC and other national auction houses to present what look like huge real estate liquidations. In fact, their low advertised minimum opening bid has little or nothing to do with the actual reserve or selling price set by the bank. In a true absolute auction of real estate, the highest bidder is the buyer - and the seller has agreed in advance of the auction to transfer title regardless of the bid.
Nicholas Varzos of Exclusively Auctions has teamed up with Tranzon Fox in Baltimore MD to power this dynamic sale. Varzos says the seller is prepared and capable of selling. The property is free and clear from mortgage debt. It is virtually brand new. What's more, the seller believes in market equalities.
Frank Russo, AU18 will represent the sale in Baltimore. For more information about this important new auction of real estate in Baltimore, contact Nicholas Varzos (888) 826-7310 or Rachel Rabinowitz (443) 841-5916 as soon as possible.
###