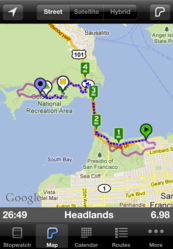 "We invested nearly a year developing the foundation and features for 6.0 and the Wahoo Fitness ANT+ system," said Abvio's CEO Steve Kusmer. "With the evolution of the iPhone platform and impending release of iOS 5, this is a very exciting time for us."
San Francisco, CA (PRWEB) October 05, 2011
Abvio today announced version 6.0 of their award-winning iPhone applications, Runmeter, Cyclemeter and Walkmeter. These top-rated GPS fitness apps deliver the power of an expensive bike computer or GPS watch to your iPhone by tracking workouts with a host of features designed to help you improve performance and fitness. Social sharing features, including support for Twitter, Facebook and dailymile.com, provide extra motivation with a fun twist: your friends, family and coaches can reply to your posts on these social sites, their replies are then spoken using text-to-speech technology during your workout.
Leading the list of new features in version 6.0 is advanced support for the ANT+ system from Wahoo Fitness (purchased separately), which allows an iPhone user to monitor heart rate, cycling speed, and cycling cadence for real-time workout feedback and post-workout analysis.
Runmeter, Cyclemeter and Walkmeter 6.0 go much further than similar iPhone apps by providing a deeper implementation and more precise health data, such as calorie calculations using heart rate and VO2Max, stop detection based on cycling speed sensor data, and split/interval/zone analysis summarizing more than a dozen data items. Further, real-time feedback is supported, with more than 70 possible data items that may be heard, displayed on-screen or shared on social networks.
Abvio's apps offer outstanding support for the Wahoo Bike Case (for cycling) and the Wahoo Key (for running and other activities), which wirelessly connect to sensors that support ANT+. The Wahoo Bike Pack and Wahoo Run Pack bundle these ANT+ receivers with a speed/cadence and a soft heart rate belt, respectively.
More than 12,000 hours of engineering have been invested in the three applications, just one of the reasons Abvio's apps are the highest-rated GPS fitness applications for the iPhone today (with a 4.5 star user rating as of September 23, 2011).
"We invested nearly a year developing the foundation and features for 6.0 and the Wahoo Fitness ANT+ system," said Abvio's CEO Steve Kusmer. "With the evolution of the iPhone platform and the impending release of iOS 5, this is a very exciting time for us. We are driven to create innovative, reliable and easy-to-use applications that far exceed the capabilities of bike computers and GPS watches that cost hundreds of dollars. This supports our mission to help our customers become healthier and live longer."
"We welcome Abvio as a Wahoo Fitness partner," said Chip Hawkins, CEO, Wahoo Fitness. "Abvio is a company with a clear vision and a track record of excellence. They have succeeded in building apps that offer broad and comprehensive support for our ANT+ system, which will provide athletes with rich real-time information they can use to monitor and improve their fitness."
Power up Workouts with Runmeter, Cyclemeter and Walkmeter 6.0
Version 6.0 also includes new features designed to help you take your runs, rides and hikes to the next level with more data, analysis and customization of workouts:
Interval Training is a proven training technique to improve fitness. Version 6.0 includes the most advanced interval training system available in any app or on any device. Intervals can be based on time, distance, reaching a specific location or may be advanced using a Lap button. Voice prompts for each interval can be customized to any specific command. Intervals can have targets set, and each interval and its summary statistics are noted on a Google Map and in workout reports. Walkers can use Interval Training to help make the shift to running by using simple run/walk intervals. Professional athletes can set up pyramid intervals and tempo workouts to ratchet up their performance.
Target Alerts can be set per interval or over the whole activity to provide real-time feedback of heart rate, speed, pace and cycling cadence. When you are outside of your target range, an announcement gives you feedback, such as, "increase speed" or "decrease heart rate" along with your current statistics.
Zones analyze your post-workout performance by using summarizing ranges for heart rate, speed, pace and cycling cadence. Zones are completely configurable to any range and can be applied to any workout, both during and after.
Tap the new Lap Button at any point during a workout to record all of the data up to that point as an interval while summarizing a dozen different statistics such as time and distance covered, average pace, fastest pace and maximal heart rate. The Lap button also records a marker on the workout map.
Runmeter, Cyclemeter and Walkmeter 6.0 are all built from the same foundation, and come preconfigured for running, cycling and walking, respectively. Each app supports all features and activities. All three are available on the Apple iTunes App Store (iTunes link) for $4.99 (US). One voice, for hearing replies from Twitter, Facebook and dailymile.com, is included free. Subsequent voices are $0.99 (US) each via In App Purchase.
About Wahoo Fitness
Located in Atlanta, GA., Wahoo Fitness connects smartphones to your favorite fitness activities - running, biking, and gym going through the use of its ANT+ connectors for iPhone and Android phones. Wahoo Fitness's award winning products include its Wahoo Run Pack, which adds heart rate training to your iPhone, and its Bike Case for iPhone, which simultaneously protects your phone and connects it to the sensors on your bike. All Wahoo Fitness products communicate using the ANT+ wireless protocol. For more information on Wahoo Fitness, please visit http://www.wahoofitness.com.
About Abvio Inc.
Abvio Inc. is a privately held, award-winning San Francisco-based iPhone application developer devoted entirely to building comprehensive, easy-to-use applications for fitness. Please visit abvio.com to find out more and follow us on Twitter: @runmeter, @cyclemeter and @walkmeter, or on Facebook: facebook.com/runmeter, facebook.com/cyclemeter or facebook.com/walkmeter.
All company and product names are trademarks of their respective owners.
###