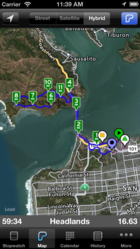 "The taller iPhone 5 screen will give our customers a better view of 155 workout stats, instantly," said Steve Kusmer, CEO of Abvio.
San Francisco, California (PRWEB) September 22, 2012
Cyclemeter, Runmeter, 5K Runmeter and Walkmeter version 8.0 are among the first iPhone fitness apps to support iPhone 5 and iOS 6, Abvio Inc. announced today. Abvio's apps easily adapt to the new iPhone's taller display and take full advantage of the much faster A6 chip and longer battery life. The apps will also work with Apple's new, beautiful vector-based maps. Cyclemeter, Runmeter, 5K Runmeter and Walkmeter 8.0 also include 155 real time workout stats viewable in the app's stopwatch, easily accessed with a swipe of the screen.
While the apps have included built-in text to speech from day one, version 8.0 includes 11 new voices, including the "Queen" (Elizabeth), hip-hop (Saul), Texan (Micah), among others. Demonstrations of the 11 new voices, along with the original 18, can be heard at abvio.com/voices. Now while training for your next race, friends and family can provide motivation in the form of replies from Twitter, Facebook and/or dailymile in a voice or dialect that makes working out more fun. The new voices bring you motivation from your social circle to go further and faster.
The new Bike Tracking feature allows cyclists to select a bike to associate with each activity and workout, and also set the wheel dimensions for use with speed and cadence sensors. Shoe Tracking allows runners to keep track of how much mileage they're putting on their running shoes; then decide when to retire an old pair and start with a new pair. Bikes and shoes can be associated with activities. For example, your road bike or mountain bike can automatically be selected based on activity.
"We're very excited about the iPhone 5 and iOS6 functionality," said Steve Kusmer, CEO of Abvio. "Because our apps are highly customizable, adapting to the taller iPhone 5 was fairly simple. The taller screen will give our customers a better view of stats, instantly. And thanks to the many customers who requested shoe and bike tracking, we now offer a way for athletes to monitor how many miles they're putting on their gear as well."
Cyclemeter, Runmeter, 5K Runmeter and Walkmeter version 8.0 is available for iPhone 3GS and later on iOS4.3 or later. The apps are already the highest-rated and most full-featured GPS fitness apps on iTunes. They include 5K, 10K and marathon training plans, as well as a broad range of features designed to give customers the data they need to measure and analyze their performance to improve over time. The Stopwatch Pages feature allows for easy access to data, and data is now accessible with a simple swipe across the screen. The stopwatch is highly configurable to include any of 155 real time stats, 123 voiced announcements and dozens of graphs maps, splits, intervals and zones' displays. Among other recent additions to Stopwatch Pages includes an integrated music player as well as color-coded text for better data visualization. Abvio's apps also leverage Apple's Voiceover capabilities in order to support athletes with impaired vision. Visit Abvio.com/accessibility for more information.
About Cyclemeter, Runmeter, 5K Runmeter and Walkmeter
Cyclemeter, Runmeter, 5K Runmeter and Walkmeter are the most powerful GPS fitness applications for the iPhone. All four come preconfigured for cycling, running, training and walking, respectively. Each app supports all features and activities. Cyclemeter (iTunes Link) is available for $4.99 (US). Runmeter (iTunes link), 5K Runmeter (iTunes link) and Walkmeter (iTunes link) are available for $2.99 (US). One voice, for hearing replies from Twitter, Facebook and dailymile is available via In App purchase for free. Subsequent voices are $0.99 (US) each.
About Abvio Inc.
Abvio Inc. is a privately held, award-winning San Francisco-based iPhone application developer devoted entirely to building comprehensive, easy-to-use applications for fitness. Please visit abvio.com to find out more and follow us on Twitter: @runmeter, @cyclemeter and @walkmeter, or on Facebook: facebook.com/runmeter, facebook.com/cyclemeter or facebook.com/walkmeter.
###
All company and product names are trademarks of their respective owners.