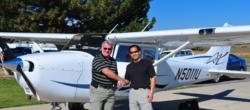 We strive to create a training environment where we balance the seriousness of our mission with informality and fun – where clients find true meaning in their training. It's the closest you can come to bottling adrenaline.
St. George, UT (PRWEB) June 15, 2011
New 14 Day Accelerated Private Pilot Training has been launched by AFIT, aviation's most respected name and largest, most effective Accelerated Flight Training organization in the US today, at its St. George, Utah, and Sacramento, California, facilities.
This new service, launched on June 1, 2011, reflects AFIT's continuing position as the Premier leader in Accelerated Flight Training across the nation.
Flight training provided at the Sacramento, California, facility is taught by AFIT's Chief Flight Instructor, a certified GOLD SEAL flight instructor, CFI, CFII, MEI, IGI and AGI with a 100% Pass Rate.
Flight training provided at its St. George, Utah, Facility is taught by AFIT's Chief Flight Instructor, an aviation professional for over 30 years. CFI, CFII, MEL and ASE with a 100% Pass Rate.
"All training is conducted in a one-on-one training environment, a minimum of eight hours per day; it is enjoyable and extremely satisfying. AFIT's Accelerated Private Pilot Training will have students certified in as little as two weeks," says Tony Montalte, AFIT President & CEO.
The Accelerated Private Pilot course has been added, due to overwhelming demand from clients that simply do not have the time spending six to eight months or more attaining their Private Pilot's License.
AFIT specializes in training in a one on one environment. This is the latest addition to AFIT's Accelerated Flight Training programs in the St. George, Utah, Sacramento, California and surrounding areas.
Excerpt from Plane & Pilot Magazine April 2011:
Immerse Yourself By Marc C. Lee
Published by Werner Publishing Corporation
http://www.planeandpilotmag.com/proficiency/flight-training/immerse-yourself.html
"AFIT is on to something here. Proving their critics wrong, AFIT is graduating quality instrument rated pilots across the world using a non-traditional approach. With a growing menu of offerings that include not only instrument ratings but other courses including private and commercial, AFIT is proving that you can become a safe, confident, and proficient instrument pilot in just 10 days. And they guarantee it. If you're going to run with the big dogs, AFIT might be just the place to start."
AFIT continues to be the future for General Aviation pilots. The US military has continuously utilized accelerated flight training for our pilots. Years of experience has proven, full-time, intense training leads to a greater level of skills, proficiency and confidence necessary to operate safely as a well trained private pilot.
AFIT Accelerated Flight & Instrument Training has been the leading provider for Accelerated Flight Training Programs and professional consulting services to the General Aviation Industry, aircraft manufacturers, private companies, law firms, corporations, doctors, athletes and government agencies. Its team of educated and experienced Senior Flight Instructors and technical specialists are recognized for excellence in service by local, national and international business communities.
Montalte states, "AFIT values the trust our clients have shown in us. On behalf of every AFIT member, Senior Instructor and employee, let me assure you our company will continue to protect the principles of our profession, maintain the highest standards of excellence, and provide each client with the quality services they have come to expect and deserve from AFIT."
For further information contact:
Tony P. Montalte, President & CEO
AFIT Accelerated Flight & Instrument Training
PO Box 9099
Newport Beach, California 92658
866-270-8224
http://www.afit-info.com/website.html
As seen in:
POPA (Pilatus Owners & Pilots Association) COPA. AOPA Pilot Magazine, AOPA Flight Training Magazine, Flying Magazine, Cessna Owner Magazine, Pipers Magazine, Cessna Flyer Magazine, Piper Flyer Magazine, Plane & Pilot Magazine and In-flight Magazine, among a few.
# # #