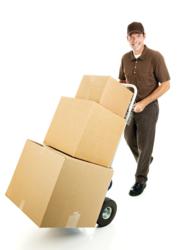 Los Angeles, CA (PRWEB) March 08, 2013
The first choice for all luxury residential and commercial relocations in Los Angeles, Acclaimed Movers, has just improved its website to help customers better connect with the best Los Angeles movers. With their new 'Find a Mover' feature, as well as the new layout which has improved navigation, it's now easier than ever before for customers to connect with Los Angeles movers or local professionals in their area. The changes put people a simple click away from the top quality moving services that Acclaimed has become known for. The company continues to improve and evolve in their efforts to remain the go-to moving company in Los Angeles. Acclaimed Movers has earned an "A" rating from the Better Business Bureau.
For more than a decade, Acclaimed Movers has helped homes and businesses move across town, across the United States, and across the world. Houses, apartments, condos, offices, warehouses, retail facilities, restaurants, Acclaimed has moved it all. Each of their relocation specialists goes through extensive training to ensure that they can properly pack and move literally any item. The comprehensive packing service that Acclaimed offers includes the use of packing techniques which reinforce boxes, as well as, the proper disassembly of all large items, and hand-built moving crates for flat-screen TVs, artwork, antiques, and other more delicate or valuable items. For transportation, Acclaimed uses only top-of-the-line trucks from its own massive fleet, all of which run on an eco-friendly bio-diesel fuel. When storage is necessary, Acclaimed maintains space in state-of-the-art, climate-controlled, secure storage facility.
Acclaimed Movers is dedicated to making lifelong customers out of each person that they help. The company aggressively adapts to the evolving moving needs of the city, and has become synonymous with affordability, reliability, and efficiency in the moving industry. Connecting customers with great Los Angeles movers is just one of many ways that Acclaimed is improving the moving industry. When it's time to make a move, it's time to get a free, no-obligation quote from Acclaimed Movers.