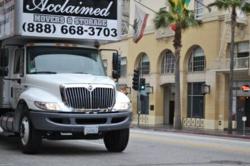 Beverly Hills, CA (PRWEB) November 10, 2012
Acclaimed Moving and Storage, a locally based provider of moving and storage solutions, has recently acquired a substantial collection of new high-grade moving equipment, as well as four new full-size biodiesel moving trucks. The company has been focusing on expanding its services in the past year and in its latest move has upgraded the luxury home moving service currently available. With the acquisition of its all new moving straps, mats, and industry standard trucks, Acclaimed is making an active effort to provide the highest quality moving services available in the Beverly Hills area.
Acclaimed Beverly Hills Moving and Storage has been constantly changing over the past year. During the nation's economic struggle many moving companies have had to downsize in order to stay afloat, but Acclaimed has been applying a different method. The Acclaimed management pays close attention to the demands of their market, watching trending patterns in the company's sales as well as national migration and census studies to better determine the needs and concerns of the public. As the company saw a growing need for moving advise on the customers' behalf, they began the informative moving guide blog that can now be found at http://www.acclaimedmovers.com. Their latest improvements to their luxury full-service moving services is another in the company's series of expansions and improvements. The Acclaimed staff is now equipped with all new high grade moving equipment, and the fleet further expanded with four new 53-foot trucks. With the acquisition of the new biodiesel moving trucks, Acclaimed luxury moving services are now available not only on a larger scale but also for more frequent bookings.
The Acclaimed full service moving services are tailored to meet the needs of the customer, and provided by a staff of expert movers and project coordinators. The attention to the concerns of the customer has helped Acclaimed continue to expand in the face of adversity. In addition to the Acclaimed luxury moving service, they also offer specialty moving and storage solutions such as vehicle transport services and expert piano moving. For more information on the range of services provided by the Acclaimed Beverly Hills team, visit http://www.acclaimedmovers.com.