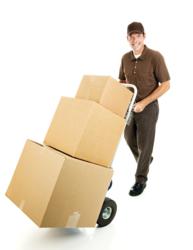 Los Angeles, CA (PRWEB) March 01, 2013
Acclaimed Movers, Los Angeles' premier, luxury residential and commercial moving company, has put together three essential tips for finding great local movers. Acclaimed continues to think about the customer first, and in addition to providing comprehensive moving solutions, also provides a wealth of industry information in an effort to create educated consumers. The company expands and evolves at every turn, adding new services in an effort to provide a comprehensive, enjoyable moving experience. Acclaimed's efforts have earned them an "A" rating from the Better Business Bureau. Here is the list they've compiled to simplify the process of finding the perfect local movers.
Gather quotes from at least five companies. The key to finding the right movers is to gather as many moving quotes as possible so that a comparison can be made between the various companies. It's important to see what services are offered by the many companies available, as well as, the prices they're offered at. By gathering at least five quotes from different places, a person can gauge what the market is like and what they can expect for their hard-earned money.
Extend research to include in-person visits to facilities. Ample research is the key to ending up with a great moving company, and that means going beyond internet research. Always call a company to verify their knowledge and customer service skills over the phone, as they need to be able to answer all moving related questions and assuage any concerns. Also, follow up all calls with in-person visits to facilities, to ensure that all advertised information is accurate. If a company refuses to allow visits to their facilities, be wary of the fact that they probably aren't proud of their operation. Additionally, be wary of peer-review sites as they are easily manipulated by reputation management firms.
Always verify that the moving company is in good standing with the Public Utilities Commission. The PUC has been tasked with regulating the local moving industry, and as such they keep detailed records on all complaints, responses, and other business practices. The PUC will be able to help in the determination of whether a company is reputable and trustworthy, or not. Take it one step further and verify the information with the Department of Transportation as well, which also helps regulate the moving industry. These organizations were created for the purpose of helping protect customers from bad businesses.
Acclaimed Movers hopes that these tips will make it easy for any customer to find the perfect moving services and local movers for their relocation. If it's time to move, it's time to get a free, no-obligation quote from California's best local movers, Acclaimed Movers.