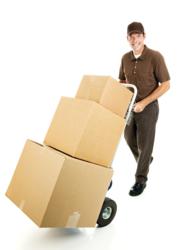 Los Angeles, CA (PRWEB) March 02, 2013
The premier, luxury, residential and commercial moving company in California, Acclaimed Movers, has just added piano tilters, lift-gates, and lifts to its toolbox in an effort to aid its office movers in Los Angeles. The new tools allow Acclaimed's office movers to better protect buildings and furniture, as they can now handle heavy lifting with ease. Acclaimed continues to evolve, improving their website, their services, and their tools to provide the ultimate, luxury moving experience. Their ongoing efforts and commitment to excellence have earned them an "A" rating from the Better Business Bureau.
For the past decade, Acclaimed Movers has moved businesses and homes across the city, across the United States, and across the globe. Houses, apartments, condos, offices, warehouses, restaurants, retail facilities, name it and they have moved it. Their team of office movers in Los Angeles has unparalleled experience in the moving industry, and each man is required to go through extensive training to ensure that they can properly wrap, pack, and then move any item. With Acclaimed's packing service, boxes are strengthened for the journey, large items are disassembled and reassembled, and all fragile and valuable items like flat-screen TVs, artwork, and antiques are protected by hand-built moving crates. To make certain that items are transported safely, Acclaimed uses only top-of-the-line trucks from its own massive fleet, all of which meet California's strict regulations regarding commercial vehicles. When storage is required, Acclaimed has short-term and long-term space available in their state-of-the-art, climate-controlled, vault-based storage facility.
Acclaimed Movers continues to evolve and adapt, as they develop their services around the moving needs of Los Angeles. The company has become synonymous with affordability, efficiency, and reliability, while making lifelong customers out of each person they help. The addition of new tools is just one of many ways that Acclaimed is working to improve the top-quality services it provides. When it's time to find office movers in Los Angeles, it's time to get a free, no-obligation quote from Acclaimed Movers. Click here for a free quote