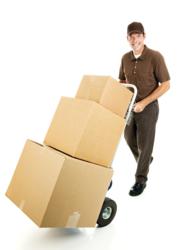 (PRWEB) March 03, 2013
Acclaimed Movers, Los Angeles' leading, luxury, residential and commercial moving company, has just added trucks with lift-gates to its fleet, allowing the company to handle all types of office moving in Los Angeles. Big offices, small offices, custom buildings, Acclaimed is now prepared to move anything. Their new lift-gates allow them to handle equipment weighing up to twenty-five hundred pounds; meaning network servers and custom furniture are not a problem. The addition of lift-gates is part of the continued expansion of the company, as they improve their overall services to meet the local moving needs. Their ongoing evolution and top quality services have earned Acclaimed an "A" rating from the Better Business Bureau.
For more than ten years, Acclaimed Movers has helped homes and businesses move across town, across the nation, and across the world. They move apartments, condos, houses, offices, warehouses, retail facilities, restaurants, airports, and more, with practiced ease. Acclaimed's team of relocation specialists has years of industry experience, and is required to go through training that ensures that each man can wrap, pack, and move anything. The packing service the company offers includes the use of techniques that strengthen boxes, and comes with hand-built moving crates for all flat-screen TVs, artwork, electronics, antiques, and other delicate or valuable items. All items are transported safely by Acclaimed's fleet of top-of-the-line trucks, each of which comes equipped with GPS for efficient navigation. When storage is required, Acclaimed has space available for long-term and short-term periods in their massive, climate-controlled, secure storage facility.
Acclaimed Movers goes above and beyond on every move in an effort to make each person they help a lifelong customer. The company has quickly become synonymous with affordability, efficiency, and reliability in the moving industry. The addition of new equipment and the development of their office moving services allow Acclaimed to handle more moves than ever before. When it's time to do any office moving in Los Angeles, it's time to get a free, no-obligation quote from Acclaimed Movers. We'll get you moving.