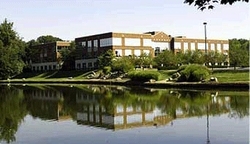 Cleveland, OH (PRWEB) December 11, 2008
Skoda Minotti is pleased to announce its new Akron area branch office. The new office opened its doors on December 1, 2008. It is located at 3875 Embassy Parkway, Suite 200, in Fairlawn, Ohio. The office will provide CPA, business and financial advisory services to Akron area clients.
The new office opened its doors with 14 employees, including members of Skoda Minotti's Accounting and Auditing, Tax and Financial Staffing groups. The employees range from partner level through staff and are a mixture of new hires and existing Skoda Minotti employees.
"With an increasing portion of our clients and employees based in Akron, we realize the significant potential for growth that the area holds," said Skoda Minotti chairman, Greg Skoda. "An Akron office will allow us to serve our Akron client base more efficiently and effectively. Additionally, this office will further our goal of continuing to attract the best and most talented staff in order to continue delivering on the promise of outstanding client service."
Skoda Minotti opened its Mayfield Village Office in 2001 and has since grown to over 150 employees.
About Skoda Minotti
Skoda Minotti (888-201-4484) is a CPA, business and financial advisory firm. Clients of the firm range from closely-held businesses to public companies, from individuals and partnerships to corporations, trusts and estates. Skoda Minotti is an independent member of the BDO Seidman Alliance. The Alliance offers its vast resources and technical expertise to clients through over 200 firms and 360 locations across the United States and 621 firms in 107 countries globally.
Recognition:

Inc 500 List of fastest growing private companies
Inc 500 Fastest Growing Private Companies Hall of Fame
Weatherhead 100 Award for outstanding growth companies in Northeast Ohio
NorthCoast99 Award honoring the best workplaces for top talent in Northeast Ohio
NEO Success Award for top public, private and emerging companies in Northeast Ohio
Inside Public Accounting - Recognized as one of the country's best managed accounting firms and one of the five best managed accounting firms in the Great Lakes region
Crain's Cleveland Business Cool Places to Work Award (Community Service category)
Multiple-time Smart Business Cleveland World Class Customer Service Award winner
Multiple-time Practical Accountant's Practice Innovation Award
Multiple-time Smart Business Cleveland Pillar Award for Community Service winner
###