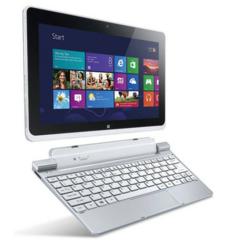 Denver, Colorado (PRWEB) March 17, 2013
Find My Price, a company specialized in tech reviews has accomplished a through market research to discover the best deals currently offered by online retailers for Acer's new hybrid tablet, Iconia W510. The list of offers is accompanied by a detailed description and review of the device for readers to get a clear picture what they should expect from the tablet.
According to http://www.FindMyPrice.net the W510 model was described as a satisfactory product due to the good quality – price report. While there may still be some aspects that could be improved, the features provided on the hybrid tablet are in most of the cases, better than the ones embedded on similar products.
The long battery life is the feature that has been most praised by reviewers at Find My Price. The tablet can last more than 12 hours, that is, a lot more than these gadgets normally offer. The fact that W510 may be used both as a tablet and as a mini laptop is one of the reasons why Iconia was placed higher among Find My Price's products. A downside is that the keyboard is lighter and thinner than the tablet and the user gets the impression that the device will overturn.
Iconia's small dimensions and attractive metal case constitute two more reasons why Find My Price analysts think the tablet is worthy of being taken into consideration by customers. The dimensions of the tablet are 6.60 x 10.18 x 0.35 inches, but the device could get a little bit thicker after the keyboard dock is added.
The internal components are not to be neglected, either, according to Find My Price. The hybrid tablet has a 1.8 GHz Intel Atom processor, 2 GB memory and 64 GB hard drive capacity. These components are good enough to enable owners to perform most of the daily activities without experiencing any problems and glitches. Moreover, the tablet is running on Windows 8, which works great with the 10.1-inch and the 1366 x 768 resolution touch screen.
Find My Price recommends Iconia W510 even though some of its features may not be highly advanced, such as, the 2 MP and the 8 MP front and rear-facing cameras. Nevertheless, the product has a good starting price ($579.99) at online retailers and, therefore, is worth taking into consideration.