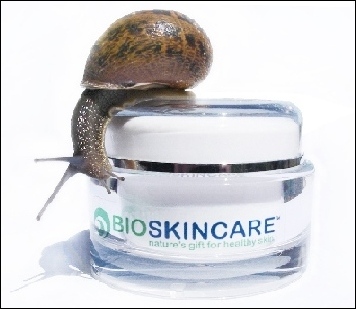 Other complex molecules such as glycoprotein enzymes, glycosaminoglycans (GAGs), proteoglycans and oligoelements (Cu, Zn, Fe), that are abundant in the colloidal snail mucin, signal the basal layer of the skin to regenerate, in an orchestrated way, all the structural elements of healthy, functional skin, including the proliferation of water holding molecules
Carson City, NV (PRWEB) November 6, 2006
A new product has just been launched by the name of BIOSKINCARE that controls acne, removes acne scars and abates blemishes.
If an adolescent or an adult could report they keep their acne away for good and get rid of acne scars by just applying a natural cream on their face twice a day, their skeptical doctor would consider it a miracle, right? Well, no, it is not some mysterious act from beyond, "it is evolution's beautiful system of trial and error working over millions of years to create a biological solution for a creature that is exposed to attacks by microorganisms, injures and skin conditions not unlike those that disturb teens, adults and haunts them when it leaves behind horrid scars".
Western medicine has searched the remedy for acne pimples or cystic acne in harsh chemicals and dangerous acne drugs with dreaded side effects. And the solution to acne scarring has been pursued through surgery excisions, dermabrasion, chemical peels and laser surgery. Unfortunately the very best they can do is limited, but now after years of research and validation, innovation has successfully culminated in a natural skin care cream that promises to control acne and remove acne scars, naturally.
Recent advances in a new frontier in science called the sweet science of glycobiology, that attempts to understand how sugars in the body -called glycans- contribute to human health and contain information as necessary to define the complexity of life as that in DNA and proteins, sheds light onto a keen observation. Marcela Olivares while manipulating snails of the species Helix Aspersa Müller, the humble brown garden snail that is breeded for its value as a gourmet delicacy, says she noticed "softer hands and scar free healing of minor injuries, cuts and scrapes".
Also further realization that snails injured by birds repair their organs –eyes and mouth- by bubbling onto them what seems to be the only substance created by a living creature to heal their own skin. Apart from other biological purposes. Namely, they "stimulate antimicrobial peptides and get rid of invading bacteria always ready to proliferate in moist and injured skin. Defend skin from UV radiation and protect it from free radicals when coming into an atmosphere full of oxygen after having retreated while hibernating". Persuade insects to stay away. Crawl and hold onto vertical positions defying gravity. And the list goes on…
Unlike pimple treatments, acne scar products and other natural skin care products in the market, this new product by the brand name BIOSKINCARE is not a concoction of some herbs or botanicals, nor is it a clever formula developed by a pharmacist. Nature's gift for beautiful skin comes in the form of an organic, complete and balanced substance, manufactured by a petite gastropod, to invigorate skin damaged with scars and holes caused by acne or injuries. It also controls damage to skin overexposed to solar radiation, oxidation, polluted environments, or attacked by bacteria.
The process that ends with removal of scars is as follows: "the natural substance stimulates collagen production and skin rejuvenation. Enzymes in it dissolve or 'digest' damaged and non-functional tissues". "Other complex molecules such as glycoprotein enzymes, glycosaminoglycans (GAGs), proteoglycans and oligoelements (Cu, Zn, Fe), that are abundant in the colloidal snail mucin, signal the basal layer of the skin to regenerate, in an orchestrated way, all the structural elements of healthy, functional skin, including the proliferation of water holding molecules".
Reducing scars & keloid scarring, relieving rosacea and skin rashes or ingrown hair and razor bumps. Accelerating skin regeneration after laser resurfacing, dermabrasion, microdermabrasion or chemical peels. Providing relief for the side effects of isotretinoin and other acne drugs, are just a few of the benefits the mucin and the odorless, white and hypoallergenic cream has. Available also as a home microdermabrasion cream for rough hypertrophic scars.
The natural skin care product also triggers the creation of orderly collagen deposition to repair stretch marks caused by overstretching during pregnancy or growth spurts. It pumps up the water holding capacity of skin which strengthens skin, reduces fragility and diminishes sagging and wrinkles. "It also refines and opens clogged pores and digests keratosis pilaris plugs and the glue that holds dead cells together, accelerating healthy skin renewal and revealing that youthful skin beneath".
"BIOSKINCARE cream is nature's gift for healthy, beautiful, silky skin. And the answer for teenagers and adults that yearn to avoid acne and acne scars & abate skin blemishes".
For further information contact
Martha Fitzharris
Andes Natural Skin Care LLC
1-800-368-6693
###