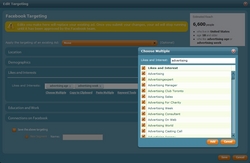 Essentially, the Acquisio Facebook tool represents a fundamental solution for streamlined ad management and a tremendous time-saver for anyone working with multiple accounts
Montreal, Canada (PRWEB) February 1, 2011
Marketers are increasingly turning to advertising on social media networks like Facebook as a viable way to increase brand awareness, engagement, conversions, and revenue. In fact, research firm eMarketer predicts that 80% of all US companies with 100+ employees will use social media tools for marketing purposes in 2011, with the number of companies expected to rise to 88% by 2012. As interest in and usage of social media for marketing purposes continues to explode, marketers are searching the answer to the age-old question: "How do you measure the impact and the value of the medium?" And clients are pressuring agencies with their own questions, including ones similar to "Sure, 'likes' and fans are nice, but what's the real ROI of all this money we're spending on Facebook?"
Digital agencies and marketers now have a method to accurately measure and effectively optimize their clients' Facebook advertising campaigns. Earlier today, performance media platform provider Acquisio unveiled new functionality that will allow marketers to understand how Facebook ads influence visitor behavior, and ultimately, to determine the ROI of Facebook advertising activities by measuring conversions and revenue directly and indirectly attributable to Facebook.
A "FUNDAMENTAL SOLUTION" FOR STREAMLINED FACEBOOK AD MANAGEMENT
Marketers who have had the opportunity to test early versions of Acquisio's new functionality assert that it will be a game changer. "For online marketers, the Acquisio Facebook tool is a virtual blessing," said Merry Morud, Online Marketing Account Manager for Internet-focused advertising agency aimClear®. "Gone are the days of devoting major time-blocks to building batches of targeting segments in Facebook. Similar to the AdWords Editor interface, the Acquisio UI is comprehensive yet easy to navigate--the "Choose Multiple" option for targeting interests makes the process of creating segments simple and much faster. Copy and paste functionality for comma separated variables in the interest bucket is another coveted feature of the targeting tool."
"Essentially, the Acquisio Facebook tool represents a fundamental solution for streamlined ad management and a tremendous time-saver for anyone working with multiple accounts," Morud concluded.
ACQUISIO AUTOMATION ALLOWS FOR SCALABLE FACEBOOK AD CAMPAIGNS
"The granular level of targeting available in Facebook ads makes it a no-brainer for most agencies reaching out to consumers," said Marc Poirier, cofounder and CMO of Acquisio. "But from what we've heard, the challenges for most agencies arise when they decide to go from a handful of Facebook campaigns to hundreds or even thousands of Facebook campaigns. Manually managing and optimizing that volume of campaigns is time-consuming, tedious, and ripe with the potential for error."
The Acquisio platform will provide marketers a way to effectively manage and optimize all of their clients' Facebook campaigns at scale, by automating many of the most arduous tasks associated with ad management. For example, marketers can set parameters within the platform that will allow Acquisio to automatically detect "ad fatigue". Once the marketer sets the criteria (for example, an ad whose clickthrough rate falls below a certain threshold), Acquisio will continually monitor the Facebook ads. If the program detects evidence of ad fatigue, it will automatically execute the action selected by the marketer, including changing bids, issuing an email alert, or simply turning off the ad until the marketer can take further action.
"By automating many of the optimization tasks associated with Facebook advertising, including detecting ad fatigue, managing and tweaking ad creative, and automatically assigning tracking parameters, we've essentially created a situation that will let marketers focus on strategic campaign decisions rather than having to slave over the day-to-day tasks that feed into those decisions," said Poirier. "This means that one marketer can effectively manage an increasingly larger number of campaigns—meaning potentially greater profits and revenues for the agency--while actually improving the value the agency provides to the client."
CROSS-CHANNEL ATTRIBUTION REPORTING ALLOWS FOR ACCURATE ADVERTISING COMPARISONS
The upgraded technology will also allow Acquisio customers to employ Acquisio's powerful and flexible attribution models in order to better understand and compare their clients' Facebook ad expenditures against other forms of advertising, including display and search. The platform will provide agencies a single place from which to manage and analyze how their clients' Facebook, search and display campaigns are working together and also to pinpoint areas where the mediums could be better integrated. By using the same tracking and attribution technology to manage and optimize all channels, marketers can make advertising decisions based on a true "apples-to-apples" comparison of performance, rather than attempting to draw cross-channel conclusions based on data provided by siloed solutions.
ABOUT ACQUISIO
The world's leading Performance Media Platform, Acquisio helps marketers buy, track, manage, optimize, and report on media across all channels. The platform was designed for search marketing, and it has evolved to include Facebook ads and retargeted ads on all major RTB display networks. Acquisio provides the industry-leading technology for marketers buying ads on any online channel, allowing them to handle all tasks associated with performance advertising, from ad purchase through conversion tracking and beyond, within a single integrated platform.
With more than $500MM in ad spend under its management, Acquisio is the multi-channel advertising solution preferred by advertising and marketing agencies. Acquisio's solutions empower over 300 interactive agencies around the world—including Bruce Clay, Yellow Pages Group, SEO Inc., aimClear®, Page Zero, Find Me Faster, Leverage Marketing, and SEER Interactive—helping them increase productivity,
efficiency and ROI.
The company is based in Montreal, Quebec with satellite offices in Seattle and London. For more information, visit http://www.acquisio.com.
###