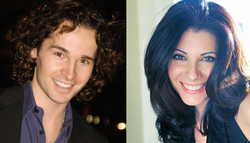 There are so many 'negative, stressful, or no-can-do' messages out there for actors
Hollywood, CA (PRWEB) March 25, 2009
Hollywood casting director Renita and actor Chris Emerson have joined forces to launch a new series of digital acting classes called 'Your Daily Renita Podcast.' The daily five-minute MP3 audio/video podcast acting courses are specifically created to provide listeners with essential tools, insight, and inspirational support needed to break into the fast-paced world of entertainment.
"There are so many 'negative, stressful, or no-can-do' messages out there for actors," said co-creator and expert casting director Renita. "I am SO inspired to be putting material into the world that is uplifting, informative and fun! I'm here to let actors know that their most delicious dreams are totally within reach!"
To empower actors, 'Your Daily Renita Podcast' acting classes personally answer listener questions on air and covers a variety of topics ranging from embracing success to audition technique to planning the big move to Hollywood or New York. It is Renita's and Chris's goal, with this one-on-one acting class format, to make it a part of an actor's everyday routine. And to equip them with the skills to advance confidently in their chosen career path.
"By creating 'Your Daily Renita Podcast' we are giving aspiring actors worldwide an all-access pass to the very mind of one of Hollywood's gatekeepers of fame - the Casting Director," said host and co-creator Chris Emerson.
Renita and Chris employ an easy-to-use method of reaching their audience. For $9.95 per month, subscribers receive the audio/video podcasts, five days a week, downloaded directly into their favorite podcast-capable audio/video player. Apple's iTunes is most commonly used. Actors listen/watch 'Your Daily Renita Podcast' episodes via the computer, MP3 device, or enhanced mobile phone making it the actor's portable and personal acting coach.
Renita of Renita Casting has auditioned and cast in feature films such movie stars as Mickey Rourke, John Leguizamo, Brittany Murphy, Mena Suvari and Jason Schwartzman. She has also cast commercial campaigns for Burger King, AT&T, Toyota and many more. Chris Emerson's acting credits include roles on the television shows Cold Case, House, and JAG. He has appeared in the feature films What Women Want and Bring it on Again and has voiced numerous commercial campaigns. Renita cast Chris's very first national/network commercial booking for Verizon Wireless.
Through a friendship on the online social network Facebook, Renita and Chris realized they both had the same passion of inspiration to aid those in their field. They teamed up to create a cutting-edge and convenient acting classes for aspiring actors; 'Your Daily Renita Podcast.'
To learn more about the 'Your Daily Renita Podcast' acting classes by famed Hollywood casting director Renita and veteran film and voiceover actor Chris Emerson, please visit the website.
###