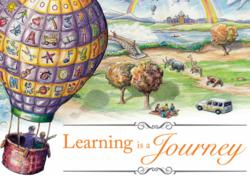 Proceeds from this event support the museum's Open Arms initiative.
(PRWEB) March 14, 2013
Stepping Stones Museum for Children's flagship fundraising social event is returning to Norwalk on Saturday, April 6. A vibrant, kaleidoscope-colored décor is sure to dazzle and delight the hundreds of museum friends, community leaders and corporate sponsors in attendance as Stepping Stones Museum celebrates the journey of lifelong learning during the 2013 Kaleidoscope Ball.
Stepping Stones invites attendees to step through the doors from 6:30 – 11:30pm on April 6 to join them on an elegant trip to support the museum's Open Arms accessibility initiative.
Balancing whimsy and sophistication in a way that only Stepping Stones can, this black-tie optional, adult-only affair will feature cocktails, dinner, a unique auction, live music by The Grace Kelly Quintet, dancing and a special awards presentation to a few exemplary leaders within the Norwalk community.
The highlight of the evening will be the presentation of the 2013 Stepping Up for Children Awards. Since 2006, the museum has been recognizing individuals, nonprofit organizations or companies that demonstrate a steadfast commitment to improving and enriching the lives of children and families. The 2013 Stepping Up for Children honorees are Dr. Margie Bussmann Gillis, president of Literacy How, Inc. and a research affiliate at Haskin Laboratories; Hazel Hobbs, founding and former headmistress of Pear Tree Point School in Darien and a founding board member of Stepping Stones Museum for Children; the Norwalk Housing Authority and its Executive Director, Curtis O. Law and the State of Connecticut.
Proceeds from the 2013 Kaleidoscope Ball will help support the museum's Open Arms initiative. This important initiative makes it possible for every child, family and school to enjoy the museum's exhibits, gallery activities and themed events regardless of any financial, language or special needs barriers.
Reaching nearly 120,000 children, caregivers and teachers throughout the region last year, Open Arms offers free evenings on the first Thursday of every month, along with free of charge traveling exhibits for schools and numerous educational, informational and learning experiences for parents and children. Stepping Stones spends more than $1 million dollars annually to provide Open Arms experiences to visitors both onsite and offsite. Since daily ticket sales and memberships only cover a portion of the cost, the Kaleidoscope Ball raises money to help bridge the gap. If you cannot attend, please consider making a donation in support of this unique initiative.
The Kaleidoscope Ball is sponsored by the Foster Family Fund at the Visionary level, Pitney Bowes at the Innovator level and Purdue Pharma L.P., Nestlé Waters North America, Network Synergy Corp. ,TD Bank, U.S. Trust, Bank of America Private Wealth Management and Webster Bank at the Explorer level. Media support is provided by Moffly Media and WSHU Public Radio. 3 Axis Inc., Heineken, Keno Graphics, PALM Belgian Ale, Peter Troilo Nicholas Roberts LTD, Rémy Cointreau, Sysco Connecticut, LLC, Thurston Foods, Inc. are providing in-kind support.
For more information or to purchase tickets, visit steppingstonesmuseum.org, or call 203-899-0606, ext. 225.
About the company:
Stepping Stones Museum for Children in Norwalk, Connecticut, is an award-winning, private, non-profit 501(c)(3) children's museum committed to broadening and enriching the lives of children and families. Located on five acres in Mathews Park, the LEED Gold certified museum encompasses five hands-on galleries, state-of-the-art Multimedia Gallery, Family and Teacher Resource Center, cafe and retail store. Stepping Stones provides a wide variety of fun family activities, activities for children, performances, and programs for meaningful learning experiences.