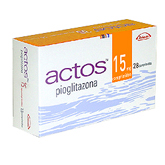 Lawyers continue to help those diagnosed with bladder cancer after taking Actos file claims.
New York, NY (PRWEB) April 18, 2013
The drug safety advocates at DrugRisks.com are alerting of updated legal news on the site for patients who have taken the diabetes drug Actos. A jury could begin deliberations today in a trial accusing Takeda Pharmaceuticals of causing bladder cancer with their diabetes drug Actos***.
DrugRisks is designed to improve the safety of those taking popular prescription drugs like Actos by providing the latest warnings, recalls, studies and legal news. Visitors can determine if other patients are experiencing similar side effects and decide if they need legal advice.
The FDA and European Medicines Agency* have warned that taking Actos for longer than one year may be associated with an increased risk of bladder cancer. Regulators in France and Germany have even banned its use**.
DrugRisks has learned as many as 3,000 patients in the U.S. have filed an Actos lawsuit against Takeda Pharmaceuticals over allegations their drug caused bladder cancer***. The first trial is underway for Jack Cooper, a grandfather who is now terminally ill from the disease***.
Now, the resource center has added legal news showing lawyers are finishing their closing arguments and the jury could begin deliberations as soon as Tuesday or Wednesday this week. A decision is expected soon***.
Lawyers continue to help those diagnosed with bladder cancer after taking Actos file claims. Anyone affected is urged to contact the DrugRisks Center or speak with a lawyer about their legal rights as soon as possible.
Due to the specialized nature of drug injury litigation against large pharmaceutical companies, DrugRisks only recommends lawyers and law firms who have already handled Actos lawsuits.
Visit http://www.DrugRisks.com today for more information on Actos bladder cancer research, side effects and litigation news, or to speak with a lawyer.
*fda.gov/ForConsumers/ConsumerUpdates/ucm263431.htm#Actos; ema.europa.eu/ema/index.jsp?curl=pages/medicines/human/public_health_alerts/2011/07/hu an_pha_detail_000033.jsp&mid=WC0b01ac058001d126
**cbsnews.com/8301-504763_162-20070492-10391704.html
***bloomberg.com/news/2013-04-15/takeda-s-actos-diabetes-drug-tied-to-cancer-jury-is-told.html