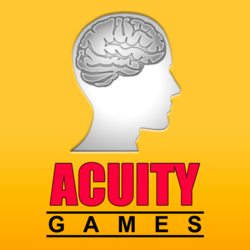 Acuity Games iPad apps take the brain games users know and love, and add lifetime brain fitness measurement.
Pompton Plains, NJ (PRWEB) March 27, 2013
Brain Games developer Acuity Games (also known as PeqApps) is proud to announce the latest version of their Acuity Games line of iPad brain games. Unlike other brain games which focus on mental stimulation, Acuity Games apps provide lifetime brain fitness measurement. This advanced measurement motivates users to improve brain fitness, and enables them to verify the results of the healthy lifestyle choices that drive brain fitness. The games are available today in the iTunes App Store.
Acuity Games take the brain games users know and love, games like Sudoku, Concentration and Simon Says, and add lifetime brain fitness measurement. Key speed, skill and success performance metrics are combined into an intuitive Brain Fitness Index. This powerful measurement is recorded automatically, and displayed in daily, monthly and yearly graphs, for up to 100 years, making it incredibly easy to see if brain fitness is improving or declining.
Each Acuity Game is highly configurable, so users of all skill levels can play games that are fun and challenging. Other brain games provide a single challenge, and then compare users' results to other players. When it comes to brain fitness, what matters is how it changes over time, not how your skills compare to others. By focusing on how brain fitness is changing over time, Acuity Games gives users an early warning if their brain fitness declines significantly. This allows users to modify their lifestyle choices before it is too late.
"We are proud and excited to help people take control of their brain fitness," said Dan Hansen, founder of Acuity Games. "By playing Acuity Games today, users will be able to enjoy a brighter tomorrow."
Dementia is poised to become the healthcare crisis of the 21st century, with over two billion people at risk for the disease by 2050. Because the brain fitness decline that leads to dementia begins as early as age 27, it needs to be addressed years before becoming at risk for the disease. Researchers report that up to half of Alzheimer's cases, the most common form of dementia may be preventable with healthier lifestyle choices. By playing Acuity Games, users can measure their brain fitness as they age, and insure that their lifestyle choices are maintaining their brain fitness. Acuity Games: a scale for your brain. Watch video.
About Acuity Games
The Acuity Games line of brain games empowers people to improve brain fitness through brain fitness measurement. Learn more: http://acuity-games.com
Contact:
Dan Hansen / Acuity Games
973-632-7522