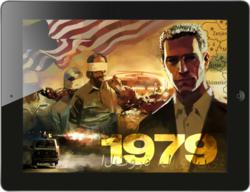 In the process of entertaining, I can provide an insight into why there's been a black and white relationship between the west and Iran over the past 30 years
(PRWEB) March 04, 2013
People came to Grand Theft Auto for the crime sprees and car jackings, but they stayed for the cinematic story and great performances. For that they can thank Navid Khonsari, the Iranian-born filmmaker who directed the voice-overs and motion capture on Max Payne, GTA III, GTA: Vice City and GTA: San Andreas to name a few. Now the Grand Theft Auto Director is back with a game about his homeland: 1979, a stealth actioner set in the fateful year when revolution ravaged Iran, coming soon to tablets and smart phones.
Game developer Navid Khonsari recently discussed his new game, 1979, with ADANAI.com writer John Zurhellen. Iranian born Khonsari was quick to draw some parallels between pre-revolution Iran and the modern western cultures of the '70s.
"Iran before the revolution was quite modern. Same music as the West, same fashions; bell bottoms. I never saw my mother cover up. If you take a look at her passport picture from 1978, she looks like a modern young woman that could be living in San Francisco, London or Helsinki," said Khonsari.
Khonsari then explained the changes, and what drove them. "After the revolution, for the next 30 years, the clocks get turned back. Take a look at her (referring to his mother) passport 20 years later, she's got no makeup. She had to cover up. So when we have discussions about whether to bomb Iran, we're not bombing a country back into the past. Iran was on the forefront of modernism and maybe that's part of the problem. It got too modern, too quick, but it had an infrastructure and one of the most educated populations in the world."
Khonsari's goal as a popular game developer is not to educate but to entertain people. However, he doesn't mind if people learn something along the way. "In the process of entertaining, I can provide an insight into why there's been a black and white relationship between the west and Iran over the past 30 years," Khonsari concluded.
To read the full interview, visit http://adanai.com/grand-theft-auto-director/
About ADANAI
ADANAI provides an in-depth, inquisitive look into the worlds of nightlife & partying (night clubs, DJs, brunch parties, pool parties, sports bars, destination parties, edgy restaurants), and gaming (video games, poker, social games). ADANAI: the preeminent domain for nightlife and gaming connoisseurs. Please visit http://www.adanai.com to learn more.