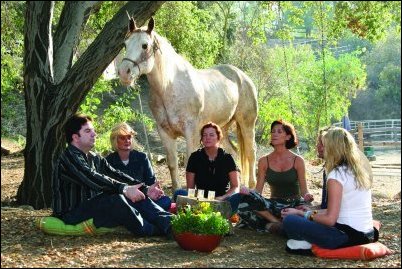 We are thrilled to be of service to the clients who choose to participate in the Polychrome Program at All Ways Recovery
Los Angeles, CA (PRWEB) November 8, 2006 –-
A new drug rehabilitation and addiction treatment program has been launched by All Ways Recovery. The Polychrome Program focuses on participants' emotional growth using Cognitive Behavioral Therapy and Equine Assisted Psychotherapy.
"We believe in presenting many options for recovery and in combining several techniques to help our clients get the most out of their experience," says Marie-Dorée Lambert, C.C.D.C., C.H., Executive Director of All Ways Recovery. "Our success comes from the wide variety of cutting edge solutions and finding the therapeutic path that is right for the individual. Our treatment focuses on the emotional growth of the patient, whose previous answer was alcohol and drug use. Improving their personal awareness and relationships, clients increase their self-esteem, confidence and communication skills."
The Polychrome Program is an intensive five week program structured around four goals: awareness, awakening, schema change and experimenting with change. Each goal meets a specific attainable objective and is clearly defined and measurable. This unique program is the backbone of a comprehensive behavioral modification program, and fits easily with other therapeutic programs. Already, participating drug rehabilitation patients from the Pasadena Recovery Center are being shuttled to one of All Ways Recovery's centers for addiction treatment.
"We are thrilled to be of service to the clients who choose to participate in the Polychrome Program at All Ways Recovery," says Sam Usher, Director of the Pasadena Recovery Center (PRC). PRC is offering shuttle van service for patients every Tuesday and Thursday to one of All Ways Recovery's centers.
"It is gratifying to work with the families looking for real solutions," says Tina Aragon, Public Relations Coordinator for All Ways Recovery. "We have confidence patients who choose to use our services will find real benefits through our program."
The Polychrome Program includes unique measurement tools, including sociometric tests, client self-reports, and therapists and staff evaluations. The program is expected to be under study shortly at UCLA.
Co-founded by Frank Hochuli and Marie-Dorée Lambert in April 2005, All Ways Recovery specializes in addiction treatment, family counseling and drug rehabilitation. The two co-founders were raised in European boarding schools and are fluent in French, Spanish, German and English. All Ways Recovery offers Equine Assisted Psychotherapy, counseling, psychodrama, corporate coaching, team building and various workshops addressing addiction treatment, ADHD, eating disorders, grief, depression, self-abuse, anger management, etc., serving an all ages population. Michael Topp, MFT, All Ways Recovery's Clinical Director has been working in the field of drug and alcohol addiction for over 35 years and has been teaching about alcoholism at UCLA for 19 years. The organization, based in California, operates out of a sheltered mountain ranch in Malibu, a secluded property in Topanga Canyon and a private practice in Beverly Hills.
Press contact:
Marie-Dorée Lambert, C.C.D.C., C.H
All Ways Recovery Executive Director
(323) 528-7107
http://www.allwaysrecovery.com
###