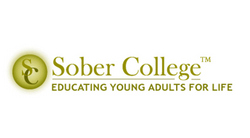 but it is definitely the most rewarding.
Otay Lake, California (PRWEB) August 20, 2007
A Sober College student celebrated his alcohol rehab and addiction treatment at the school with a skydive. Nic C, a current Sober College resident, participated in a life changing experience at Skydive San Diego. Although students routinely participate in exercises at the indoor skydiving facility in Perris Valley, this is the first time a student has had the opportunity to engage in a tandem skydive. The experience was provided by Brian Brekke, LAC, a licensed addiction counselor, member of the United States Parachuting Association and President of Sober College University. In his role, he is overseeing the development of Sober College's online university.
Being of Service, setting and accomplishing goals, and participating in other cognitive behavior is a vital part of recovery and addiction treatment that gives Sober College students the tools they need to stay sober once they leave our program, states Loree Cohen, LCSW, Executive Director. An average month at Sober College allows students the opportunity to go deep sea fishing, play in a lacrosse league, attend school at the local community college and now possibly skydive. We are thrilled to offer such a fun range of activities to our students."
"This was the single greatest day of my life," said Nic after he landed safely from his skydive. "The feeling I had when I jumped was better than any drug I have ever done and I was so proud of myself for facing my fears. I didn't know if I could do it, and I did!" For Brian, who jumped seconds before Nic, this was also a special day. "Skydiving has always been an educational process for me. I learn more about myself each jump I take and the skydiving fellowship mirrors that of AA in many ways."
In addition to now being hooked on Skydiving, Nic is also a member of a very exclusive club, the Friends of Bill W Skydiving club. In order to be a member you have to be working the 12 steps, remain abstinent from mood altering chemicals, and complete at least one skydive. "I think this is the toughest club to get into in the country," said Nic "but it is definitely the most rewarding." Membership includes a unique patch, newsletter, and roster of other members.
Nic plans to remain in Southern California after he graduates from Sober College. "I look forward to pursuing my college degree, working with my sponsor and volunteering at Sober College."
About Sober College:
Sober College, headquartered in Southern California, is a small private institution providing alcohol rehab and addiction treatment environments for young adults age 17 to 29. The Sober College curriculum builds core competencies in life skills, employment, academics, emotional well-being and fitness. For further information visit our website at http://www.sobercollege.com or call 800-465-0142.
More Information on Sober College:
Annika Richards, Public Education Director
Alcohol rehab and addiction treatment program
818-795-8687
###