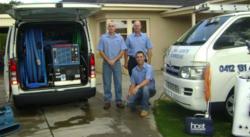 Whether we are dealing with homeowners or larger businesses, we have a reputation for operating ethically and honestly - we would not have been in business for 20 years otherwise
(PRWEB) January 08, 2013
One of Adelaide's premier commercial, domestic and carpet cleaning services, I Clean Carpets & Windows has reached a major milestone year in 2013, its 20th Anniversary.
From its modest beginnings as a one-man operation, working out of a 1971 VW Beetle in 1993, the company now has a fleet of vehicles that services the greater Adelaide area, from Gawler to Cape Jervis.
As the name suggests, the company started out as an Adelaide carpet cleaning and window cleaning business. However, over the years it has diversified, though always with a focus on cleaning.
"As well as window and carpet cleaning, we now provide other related services," said Grant Parkyn, Manager of I Clean Carpets & Windows. "Upholstery cleaning, water damage restoration, tile and grout cleaning have now been added to our specialties, along with the hire of powerful, high quality, drying fans for when flooding occurs."
20th Anniversary Website
Commencing its 20th Anniversary celebrations, I Clean Carpets & Windows has launched its new website, which reflects its clean and streamlined service ethos.
"In launching the new website, ICleanCarpetsAdelaide.com.au, we acknowledge that many people these days search for the products and services they need online," said Mr Parkyn. "And we have ensured that the website is easily read on mobile devices as well as regular computer monitors. In everything we do, we have our customers' convenience in mind."
The website also lists many of the company's larger clients, which include golf clubs, hotels, ferry lines, real estate agencies and property developers.
"Whether we are dealing with homeowners or larger businesses, we have a reputation for operating ethically and honestly - we would not have been in business for 20 years otherwise," said Mr Parkyn.
The I Clean Carpets & Windows website can be found at icleancarpetsadelaide.com.au
About I Clean Carpets & Windows
I Clean Carpets & Windows is a family owned and run business based in Adelaide, South Australia. It was established in 1993 - and celebrates its 20th Anniversary in 2013.
The company provides a range of cleaning services that include window, upholstery and carpet cleaning, flood restoration, tile and grout cleaning, and fan hire for both domestic and commercial clients. Its key focus is the greater Adelaide areas, from Gawler to Cape Jervis.
I Clean Carpets & Windows has a fleet of three vehicles equipped with state of the art equipment and quality cleaning products.
The company prides itself on professional, honest and friendly service.
For more information visit icleancarpetsadelaide.com.au