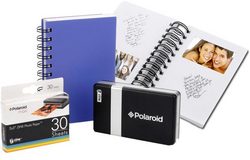 Our patented Instant Photo Guest Books™ have contemporaneously captured life's special events in photos and handwritten sentiments at weddings, bridal and baby showers, birthdays, anniversaries, retirements and more since 2002
San Francisco, CA (PRWEB) September 23, 2008
Adesso Albums today announced its strategic product line extension of instant photo albums compatible with the recently announced Polaroid PoGo™ Printer and Polaroid ZINK Photo Paper™. In addition to the life event celebration market, which the company currently serves, the new line also targets a rapidly growing segment of the market that includes teens and travelers and accommodates their expectation for instant results/gratification.
"Our patented Instant Photo Guest Books™ have contemporaneously captured life's special events in photos and handwritten sentiments at weddings, bridal and baby showers, birthdays, anniversaries, retirements and more since 2002," said Lesley Mattos, President, Adesso Albums.
"Along with a new Polaroid ZINK Photo Paper™ compatible version of our instant photo guest book, the brand new Adesso Albums' YOURbook™ makes even the simplest of occasions - a day at school, a girls' night out, an impromptu dinner party, a vacation, baby firsts - an event to be remembered - instantly."
The Polaroid PoGo™ printer is the size of a deck of cards and prints full-color, 2-inch by 3-inch photos from cell phones via Bluetooth and from digital cameras via PictBridge using ZINK™ Zero Ink™ Printing Technology from ZINK Imaging.
Once the photos are printed, Adesso Albums' patented compatible line of albums provide a place to store, record notes and cherish those memories instantly. The new Adesso Albums, Polaroid PoGo™ Printers and Polaroid ZINK Photo Paper™ are available online at Adesso Albums and at participating retailers worldwide.
For more information on the Adesso Albums for Polaroid PoGo™ products:
Visit: http://www.adessoalbums.com/polaroid-pogo.html
Call: 415.957.9901
Fax: 415.957.9902
About Adesso Albums:
Adesso Albums, Inc. was founded in January 2002 and is headquartered in San Francisco, CA. The Company designs, markets and sells the world's first line of Instant Photo Guest Books®. An Adesso Albums Instant Photo Guest Book® boasts the unique combination of photo album, guest book and event journal all in one -- ready to capture and preserve moments and memories instantly. Bridal showers, weddings, family reunions, parties and graduations are only a few of the many occasions to create an Adesso Album. The company's patent pending formula pairs instant Polaroid™, print or Polaroid PoGo™ Printer photos with guests' hand written sentiments. Albums and accessories are sold in a range of colors and sizes on the company web site and through various resellers and affiliates around the globe.
Adesso Albums and the Adesso Albums logo are registered trademarks of Adesso Albums, Inc.
###