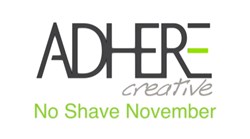 We were excited to use out bread growing skills to touch lives and help those in need.
Houston, Texas (PRWEB) December 08, 2013
Houston's inbound marketing agency, Adhere Creative, celebrates the success of their No Shave November fundraising campaign, which helped generate $1710 for prostate cancer research and awareness.
No Shave November is an annual, month-long event aimed at raising awareness for men's health. The participants pledge to refrain from shaving for the entire month in an effort to raise funds for charities of associated illnesses.
This year, the Adhere Creative team launched Adhere Noshember, their own No Shave November campaign to raise money for the cause. The proceeds of the campaign was awarded to Stop & Smell the Rosies, a non-profit organization supporting charities that help fund treatment and awareness of individuals suffering from unfortunate life-changing strife like Prostate Cancer.
The campaign encouraged donations of all sizes. Adhere Creative offered 30 minute free marketing strategy consultation sessions with the team as a prize for generous $50 donations. The campaign raised a total of $855 from various donors and was duly matched by the marketing agency for a grand total of $1710.
"We are honored to receive such a gracious contribution from Adhere Creative," said Joan Board, Founder of Stop & Smell the Rosies. "Support like this brings faith and hope to those who are burdened by hardships and life-threatening illnesses like Prostate Cancer, and we're deeply touched by Adhere Creative's effort to make a difference."
Nathan Yerian, Director of Strategy at Adhere Creative, explained that the company's vision for success involves giving back to the community by supporting causes dear to the hearts of its team.
"Launching a No Shave November campaign provided a great opportunity for us to prove our commitment to this vision." Said Yerian. "We were excited to use out bread growing skills to touch lives and help those in need."
Adhere Creative is an inbound marketing agency dedicated to developing brand identities and comprehensive marketing strategies that produce measurable results. In addition to charitable campaigns like No Shave November, the marketing agency also organizes the annual One Award, which entails a full and free brand makeover for a selected non-profit organization.
For more information, visit Adhere Creative on the web at http://www.adherecreative.com.