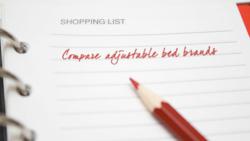 Tempe, AZ (PRWEB) March 25, 2013
Adjustable beds continue to attract consumers with their potential health benefits and promises of increased comfort. However, because this is not yet a commonplace purchase, it may be difficult for first-time shoppers to know what to look for when comparing different models. To address this complexity TheSleepyShopper.com just released an in-depth comparison of adjustable bed brands, titled "Shopping For An Adjustable Bed? See How Top Brands Compare."
This post was inspired by a recent release from BestMattress-Brands.org, whose comparison of seven leading adjustable bed brands serves as the basis for The Sleepy Shopper's article. The brands both reviews compare include Amerisleep, Costco, Craftmatic, Golden Rest, Sleep Comfort, Select Comfort, and Tempurpedic.
The Sleepy Shopper includes the chart from the Best Mattress Brand comparison which looks at the consumer ratings, reported health benefits, price, durability and warranty of seven leading retailers. A brief summary of each scoring category highlights why the factors prove important for shoppers.
Whereas BestMattressBrand.org took a broad approach, The Sleepy Shopper's comparison looks at one specific entry-level adjustable bed model from each brand. Also provided in a simplified chart format, readers can quickly compare everything from price, to remote type, to warranties, and more. Overall prices begin around $949, and the brands offer a wide variety of feature combinations and warranty terms, with some offering decidedly less at similar pricepoints.
Summarizing the analysis, The Sleepy Shopper finds Amerisleep to offer the best overall value. In addition to having the lowest entry-level price, the Amerisleep Ergo Pursuit adjustable bed also offers a wide variety of features, good full coverage warranty terms, and reviews averaging 4.7 out of 5.
The article concludes with recommendations for consumers researching adjustable bases, including not relying solely on brand name, looking for transparency, checking reviews, and creating their own charts to compare products on important aspects. TheSleepyShopper.com features several other articles on mattress selection and education for interested readers.
TheSleepyShopper.com offers insights and information for consumers, focusing exclusively on mattresses, pillows, bedding and sleep products. Utilizing an accessible, responsive blog format, the website aims to help educate consumers about their options and on making better buying decisions. From industry research, to product reviews, and general guides, the blog is a must-read for anyone in the market for a new mattress.